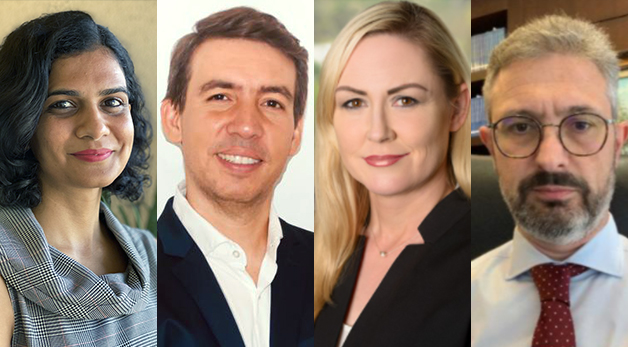 Manisha Dilip Shirolikar, Hector Fernandez, Sarah Stegleder, Danilo Knijnik
Since 1952 Miami Law has offered a welcoming environment that has drawn U.S. and foreign-trained lawyers from around the globe to its LL.M. programs. Spring semester 2021 brought a cadre of prominent lawyers in their own rights looking to propel their careers and deepen their specializations.
Spring Welcomes 52 Students
January 2021 welcomed LL.M. students across many Miami Law programs: 12 students in Intensive Legal English + LL.M., eight in Entertainment, Arts and Sports Law, 13 in International Arbitration, four in Real Property Development, 14 in U.S. and Transnational Law for Foreign-Trained Lawyers, and one in Taxation.
When asked about the large class, Carmen Perez-Llorca, Assistant Dean for International and Graduate Programs, said, "We are thrilled to welcome one of the largest entering spring classes ever. These students, who were not deterred by the pandemic and the challenging environment it has created, have already shown their resilience and determination."
International Arbitration LL.M. Student Hector Fernandez
Hector Fernandez is the founder of a prominent local law firm in Venezuela, where his work focused on complex commercial disputes, art-related dispute, domestic and international arbitration, class actions and group litigation including aviation disasters.
"I am passionate about law and I love Miami. So, when deciding to go back to school, without hesitation I chose Miami Law, which has almost a century old tradition of excellence and it is renowned across the world."
As a legal expert in his own right, Fernandez searched for a program of a caliber to match. "I practice International Arbitration and I knew that the White & Case International Arbitration LL.M. was ranked among the top LLM Programs for Alternative Dispute Resolution."
Fernandez obtained his law degree from the Catholic University Andres Bello in Caracas, Venezuela in 1998 and completed specializations in procedural law at Salamanca University in Spain and Andres Bello in Venezuela. He is licensed to practice law in Colombia and Venezuela.
"My goal is to be able to practice Law in the U.S., continue to develop my career as an international arbitrator, and at the same time teach law as I did for years in Venezuela and Colombia. I am sure that this prestigious LL.M. can be a springboard to achieve these goals."
Real Property Development LL.M. Student Sarah Steigleder
Sarah Steigleder is a lawyer who specializes in commercial lending. She graduated from UCLA Law School in 2013. She received her B.A. from UCLA in 2010. Prior to joining the Los Angeles firm of Levy, Smalls & Lallas, Steigleder was an associate at McDermott Will & Emery LLP, where she was part of the firm's corporate finance group. Steigleder specializes in secured lending transactions.
With a busy schedule, Steigleder is doing the online LL.M. in Real Property Development, and when asked why she selected the program Steigleder said, "I chose this LL.M. at Miami Law because it comes highly recommended from a former student and is the best I could find for purposes of taking my career to the next stage. I decided to start this January because it was the soonest that I could!"
U.S. and Transnational Law LL.M. Student Danilo Knijnik
Danilo Knijnik has practiced law in Brazil for almost 25 years. He has a law degree from the Federal University of Rio Grande do Sul - UFRGS (1994), a Master degree from the same (1997) and a PhD. from University of São Paulo – USP (2002).
He chose to study the U.S. and Transnational Law LL.M. at Miami Law "for many reasons: the rich course catalogue that fulfills the needs of a trained lawyer, the possibility of a future joint degree LL.M./J.D, the most positive recommendations from former students, the wonderful environment of the University and, last but not least, the hospitality and great sympathy of all its members and staff."
Knijnik is also an associate law professor at UFRGS, where he has also served as the associate Dean (2010-2012) and Dean (2012-2020) for 10 years and has authored many articles and law books on civil and criminal procedure.
Entertainment, Arts and Sports Law LL.M. Student Manisha Dilip Shirolikar
Manisha Dilip Shirolikar is a practicing lawyer from India, with 10+ years of experience in Sports, Media and Entertainment Law. She has worked as a Senior Manager, Legal at IMG Reliance Limited, one of the leading companies in sports, events, media and fashion.
When asked why she selected Entertainment, Arts and Sports Law LL.M. she said, "Apart from enhancing my existing experience as a sports, media and entertainment lawyer from India, and build an international professional network, I also knew I would be learning under the guidance of professors who are leaders in the industry as prominent practitioners, policymakers and law experts."
While Shirolikar was initially enrolled to begin in fall 2020, "the ongoing pandemic posed a series of challenges, which made my attendance for the program an impossible task. But many thanks to Miami Law, they were very prompt and considerate of the situation and offered me an opportunity to defer my program to a Spring start in 2021 so I could make the best of the international exposure. I am now gearing up to an exciting start as I look forward to this new journey!"
She also chose Miami for its location as an area that is an area of prominence with growing capital investments, hosting of large-scale events, home to major professional sports franchises, and a hub for television, film and Hispanic media industry that offer her "a plethora of opportunities for law professionals in the area of sports, entertainment and arts."
Students Join a Strong Network
Students in the post-graduate LL.M. programs include judges and law firm partners, leaders in governments, CEOs, and heads of corporate legal departments, and university professors. They form a valued part of the law school's vast network of more than 23,000 J.D., LL.M. alumni and alumnae and this spring's new students add to this esteemed group.
Perez-Llorca is excited about this strong, incoming class and looks forward to helping them reach their aspirations. "The University of Miami School of Law has always had a strong commitment to its LL.M. programs, and we look forward to working with each of them to help them reach their professional goals."
More on Miami Law's Post-Graduate LL.M. Programs
Top 10 Reasons International Students Choose Miami Law