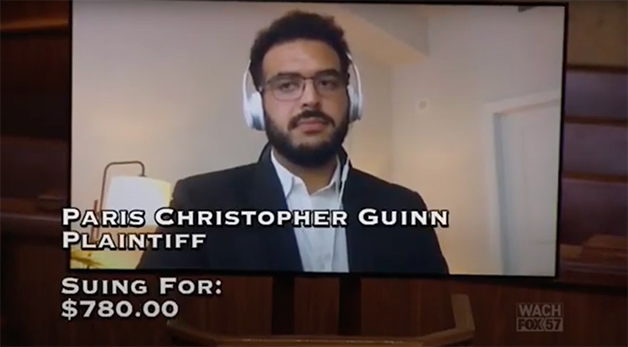 Paris Guinn, 1L
Many students come to law school with previous experience – Model UN, summer jobs in law firms, high school mock trials and debate teams. First-year Paris Guinn, who came to Miami Law with an interest in entertainment law, felicitously cut his legal teeth arguing Where's my iPhone (15:27-27:26) on The People's Court with UM alumna Judge Marilyn Milian on the January 18 episode.
The Fort Worth, Texas, born, Cincinnati, Ohio, raised 23-year-old started thinking about law school during his junior year at a music-centric high school as he pondered a path into the music world beyond playing and composing, which he admits he loved but felt too competitive for true success. (His favorite song is Frank Sinatra's "My Way.")
"I chose Miami Law because I believe they have an excellent entertainment law program and unique opportunities to get ahead for a career in the entertainment industry, regardless of whether that is in music, movies, television, sports, or other arts," Guinn says. "Looking at the student body, I saw how incredibly diverse we are. At Miami law, I think this allows students interactions and experiences outside of our own individual 'cultures,' which I find essential as a person and a future legal representative."
Early on, Guinn crossed paths with Harold Flegelman, director of the entertainment track for the graduate program in entertainment, arts and sports law, and took an instant liking. Guinn will be applying next year for the joint J.D./LL.M. in Entertainment Arts and Sports Law.
The only-at-Miami-Law program is taught by prominent faculty and practicing attorneys. Students study this combined graduate degree to focus on areas of law that in today's world are expanding, converging and at times, intersecting. Hands-on, practical learning teaches skills of high value that can provide the tipping point for attorneys contending for jobs in very competitive areas.
"Professor Flegelman is both my mentor and my idol," Guinn said. "Getting into entertainment law can be very difficult directly after graduation; however, the career goal is to land a position at (Flegelman's former firm) Loeb and Loeb, an absolute dream law firm of mine."
The Nashville, Tennessee, Belmont University graduate, with a double major in music business and marketing and a minor in international business, would love someday to have his own entertainment law firm, but says, "let's pass the bar first!"
Besides his "work experience" presenting his case on national network television, Guinn worked as a marketing intern at Universal Music Group Nashville before law school, assisting with the planning, logistics, and day of needs for events, and creating a full marketing plan of an album release for country artist Josh Turner.
Guinn won his case on The People's Court, with Judge Milian saying, she was proud of Guinn. "I smell lawyer," and the on-screen moderator quipping that Guinn "went all Sherlock Holmes."
"So far, law school has been beyond a glove fit to my trajectory for my life," says Guinn. "The joint degree is spot on for my future plan, especially the experiential and externship opportunities."
Read more about Miami Law's Sports and Entertainment Law Program
Read more about Miami Law's LL.M. in Entertainment, Arts and Sports Law program