For many students, participating in a clinic is one of the most memorable and rewarding experiences in law school. In the past academic year, Miami Law students and faculty have advocated for the underserved locally, nationally and across the globe.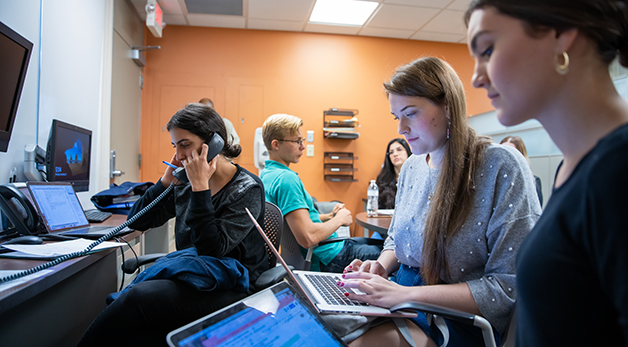 Students from the Innocence Clinic
Some Miami Law clinic highlights include:
BANKRUPTCY CLINIC:

Bankruptcy Clinic Addresses Pandemic-Related Financial Needs

Eleanor R. and Judge A. Jay Cristol Bankruptcy Pro Bono Assistance Clinic, students partnered with the Dade Legal Aid/Put Something Back program to provide financial information to people impacted by the COVID-19 outbreak. Bankruptcy clinic students received training on some of the resources available to address the economic pressures created by the pandemic, and staff pro bono telephone hotlines to answer financial questions.

CHILDREN AND YOUTH LAW CLINIC:
Children and Youth Law Clinic Files Supreme Court Brief on Foster Care Case

The Children and Youth Law Clinic signed on to the amicus brief in Fulton v. City of Philadelphia, a case to be argued in front of the Supreme Court of the United States. The brief was joined by 32 child advocate organizations from across the country and a number of members of the Interfaith Coalition for Children's Rights which seeks to oppose legislation and policy changes that would enshrine a "license to discriminate" into law.

ENVIRONMENTAL JUSTICE CLINIC:
Environmental Justice Clinic Strikes New Ground in the Energy Justice Movement

Marginalized communities, those historically and presently disenfranchised by inequity, who feel the impacts of climate change most acutely, have emphasized the need for justice in the creation of energy policies. To meet this urgent demand, Now the Environmental Justice Clinic is collaborating with community partners, such as the Miami Climate Alliance, to further the "energy justice" movement. The Miami Climate Alliance is a coalition of organizations and individuals working towards climate justice in South Florida.

HEALTH RIGHTS CLINIC:
Heath Care Law in Action: Health Rights Clinic Wins Clients $125K+ in Benefits in Five Social Security Cases

The Health Rights Clinic at the University of Miami School of Law stacked an impressive streak of wins in the Fall 2020 semester for their underserved clientele. The clinic won five Social Security cases for clients who had been wrongly denied benefits. The clinic had been fighting one such action since 2014.

HUMAN RIGHTS CLINIC:
Human Rights Clinic Files Federal Brief to Repeal Law Harming Immigrant Survivors of Domestic Violence, Sexual Assault, and Human Trafficking

Miami Law's Human Rights Clinic, with a coalition of organizations, filed an amicus brief on September 25, 2020 in the Southern District of Florida, supporting a lawsuit by the City of South Miami alongside civil and immigrants' rights groups that seeks the repeal of a draconian state law that harms immigrant survivors of domestic violence, sexual assault, and human trafficking.

IMMIGRATION CLINIC:
Immigration Clinic Releases Major Work on Immigration Consequences of Florida Crimes

Students in Miami Law's Immigration Clinic released a series of in-depth practice advisories on the immigration consequences of commonly charged Florida crimes. The work marks the 10-year anniversary of the U.S. Supreme Court's landmark decision in Padilla v. Kentucky that defense attorneys must advise their noncitizen clients of the potential impact of plea agreements on their immigration status.

INNOCENCE CLINIC:
Innocence Clinic Holds Steadfast In Now Five-Year Fight for Justice for Innocent Client

As virtual learning continues, the Miami Law Innocence Clinic has not slowed down in its pursuit of justice. The Clinic is preparing to file an appeal in Florida's First District Court of Appeal for its long-time client, Dustin Duty. Mr. Duty has maintained his innocence since he was arrested in 2013. He was convicted of an armed robbery in Jacksonville, Florida.

INVESTOR RIGHTS CLINIC:
Investor Rights Clinic Students Argue Case in New Arbitration Proceeding

Miami Law Investor Rights Clinic students Arda Barlas, Katie Black, and Sarah Lilly began their internships at the IRC in August 2019. By September, they were drafting motions, reviewing thousands of documents produced in discovery, and counseling the Colgans. In October, Black and Lilly argued motions against experienced defense counsel before a FINRA arbitrator.