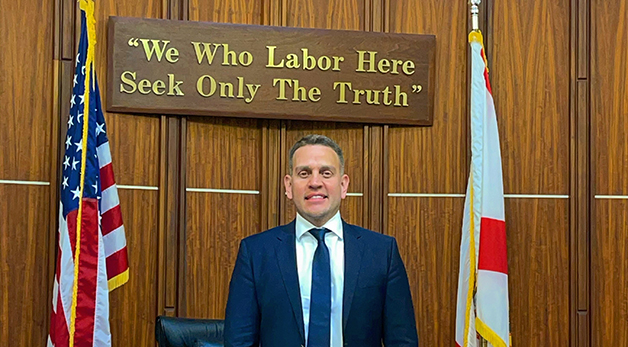 Angel Alvarez Oliveros, J.D./LL.M. '18
Venezuelan attorney Angel Alvarez Oliveros often thinks about his journey to becoming the Head of the Legal Department for Latin America and the Caribbean at one of the world's leading solar panel and energy manufacturers. The 2018 J.D./LL.M. graduate in International Law recalls how he started his English studies in 2015, spending countless hours learning a new language before embarking on his legal education at Miami Law.
Now, Alvarez Oliveros oversees operations in various countries, supporting the contracting processes, including drafting, reviewing, and negotiating a wide variety of agreements including sales, vendor, distribution, consulting, and marketing agreements. Additionally, he provides general legal advice, and support for other corporate matters regarding Latin America and Florida law.
"I decided to attend the University of Miami in order to guarantee that I was making the strongest possible professional choice," said Alvarez Oliveros. "My career in Venezuela was beginning to pick up, but the lack of security and the political inconveniences that I experienced there led me to discover what else was out there."
Alvarez Oliveros was a torts and contracts professor for more than 15 years in the most recognized school of law in Venezuela. He was also an appointed arbitrator in one of the main arbitration institutions in Venezuela.
When he began his law studies at UM, he always thought of returning to Venezuela to continue practicing. However, after obtaining his law degree and having passed the bar exam, he decided to practice law in the U.S.
"I remember being skeptical about the idea of studying abroad, because of my successful career and my beloved students in Venezuela," said Alvarez Oliveros. "In just a few weeks I had made my travel plans, without imagining that in less than 3 years I would become an American lawyer with a master's degree in law."
Alvarez Oliveros is one example of the many international students who study at Miami Law, all of them with different backgrounds and goals, and in different stages of their career.
"We see it as an important part of our mission to offer them the tools that they need to start their legal career in the U.S., if that is what they want to do," said Carmen Perez LLorca, Assistant Dean for International and Graduate Programs and Director of the International Graduate Law Programs.
"In addition, Miami and the South Florida area offer such unique employment opportunities for international lawyers. I am delighted that Miami Law's International Program contributed to Angel's academic and professional success."
Read more about Miami Law's International Law LL.M. Program
For foreign-trained lawyers: Read about Studying at Miami Law