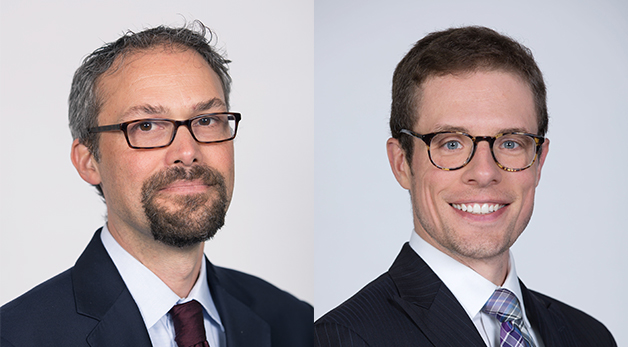 Professor Andrew Elmore and Professor John Newman
Miami Law antitrust expert and former Department of Justice attorney Professor John Mark Newman and labor and employment law expert and former section chief in the New York Office of the Attorney General Professor Andrew Elmore recently hosted a roundtable colloquium discussing the intersections of labor and employment law and antitrust with a group of expert researchers and practitioners throughout the United States.
Where do antitrust and labor law collide?
JN: Broadly speaking, these two bodies of law are aimed at the same thing: concentrated economic power. In fact, the original movement that led to the Sherman Antitrust Act in 1890 had very close ties to organized labor. That said, there's also some tension between the two. Antitrust enforcers are often suspicious of collective action, whereas labor law is supposed to protect it.
AE: If a worker is an independent contractor and not an employee, that worker is outside the boundary of labor and employment law and has a limited ability to protest unfair work conditions under antitrust law. That's become a big issue of late, with the growth of misclassification, or the incorrect classification of employees as independent contractors, and the explosion of platform companies in the gig economy, like Uber, Lyft, and Doordash, which classify their service workers as independent contractors. Labor and employment law scholars are concerned that these trends will degrade workplace standards, increase income inequality, and hurt vulnerable workers.
What kind of relevant changes did the Trump administration enact, and will there be reversals in the Biden administration?
AE: There have been many, but the most important for this discussion is that the labor and employment agencies in the Trump administration narrowed their definition of the employment relationship, making it easier for companies to treat workers as independent contractors. This comes on top of Proposition 22 in California, which carves platform companies out of that state's employment laws. Worker advocates are hoping that the Biden administration broadens its interpretation of federal labor and employment law, and declares that federal law extends protections to gig economy workers, notwithstanding state law exemptions like Proposition 22.
JN: The Trump Administration didn't impose any drastic changes on antitrust law itself. That said, it was no friend to the worker. For example, both federal antitrust agencies chimed in against efforts by Uber and Lyft drivers to engage in collective bargaining. I hope the Biden Administration will start to recover the original purpose of our antitrust laws—to combat concentrated power, not to help further entrench it.
What surprised you from the discussions? Where does it go from here?
AE: It was invigorating to share ideas with scholars and practitioners working across antitrust and work law on the problem of unequal power in the workplace. For labor and employment law scholars, power inequalities can make collective bargaining impossible, while for antitrust law, the employer's buyer market power can hurt vulnerable workers who have no alternative but to accept uncompetitive work terms. I'm hopeful that we can continue to collaborate across these spaces to develop solutions for these interrelated problems.
JN: One of my biggest takeaways was that people working in these areas have a lot to learn from each other. Labor and employment experts are incredibly creative, and they tend to emphasize actual empirical evidence rather than abstract economic theories. I'd love to see these two worlds continue to collide in the future.