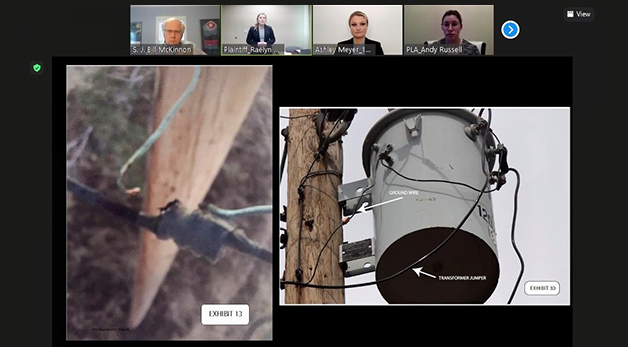 Known for its strong trial advocacy programs, Miami Law's trial team of Ashley Meyer and Andres Chinchilla, both 2Ls, made it to the Region 6 finals of the National Trial Competition (NTC). Hosted by the Texas Young Lawyers Association and the American College of Trial Lawyers, Miami Law beat out perennial powerhouse Stetson to reach the national championship bracket that will take place in April. A second team consisting of students Adam Peters, Christian Maroni, and Lauren Thronson made it to the knockout round, where they lost to Florida State.
Coached by Litigation Skills Adjunct Professor William Pearson, J.D. '84, and assisted by former Litigation Skills students Alec Waid, J.D.'20, Meaghan Goldstein, J.D. '20, and Jeffrey Pierce, J.D. '17, the teams practiced twice a week for two months. Due to a communication error, the competition was moved up by a week, which ramped up the preparations exponentially.
"In January, Coach Pearson gave me the opportunity to play a witness role for the February competition," said Meyer. "That meant that each week during practice, I played the role of a witness (or two) so that the team's competing attorneys could practice their direct examination and cross-examination questions with me. However, as fate would have it, less than thirty-six hours before the tournament, the team found itself in need of one more competing attorney. Coach Pearson took a chance and promoted me from witness to attorney. With lots of help from the rest of the team, my partner Andres and I worked to prepare both sides of the argument for the rapidly approaching first round."
With the second national tournament championship in the past year, the University of Miami has joined the country's elite mock trial teams.
"It was an awesome feeling [winning]," said Chinchilla. "Just tons of emotions and thoughts were running through our heads, realizing that this was the culmination of all our hard work. It also felt great winning some (virtual) hardware for Miami."
The team is now waiting for the new case problem to be released, and then it's back to practicing for the national championship.
"I am extremely proud of our effort and performance during the tournament," said Meyer. "We gave it our all during every round. Winning was surreal."
Read more about Miami Law's Litigation Skills Program
More on all trial advocacy programs at Miami Law