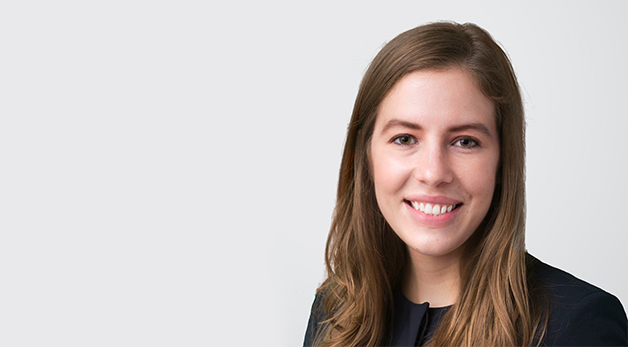 Sara Klock, J.D. '17
Sara Klock, J.D. '17, used the experiences she gained at Miami Law to launch her career as a regulatory attorney at Holland & Knight in Washington, D.C.
During her time at Miami Law, Klock, who received her undergraduate degree from Siena College in New York, served as the senior writing editor and articles & comments editor for the University of Miami Law Review. She was also a research assistant for and a participant in the LawWithoutWalls Program, a cross-disciplinary, cross-cultural, part-virtual experiential learning program where participants are tasked with creating a Project of Worth. Klock's project focused on building a supply chain management tool designed to create more uniform ethics and compliance standards for small- and medium-sized suppliers.
"I participated in LawWithoutWalls my second year, and we had our kickoff in Madrid, Spain," said Klock. "A few classmates and I flew to Spain early before the kickoff and met these incredible people from across the world in a different country. Then, at the end of the semester, the experience of pitching my team's idea in front of 200+ people was exhilarating."
Klock also remembers her time fondly with the law review.
"I wrote onto UMLR and was incredibly fortunate for law review and the time we spent together," said Klock. "My law review class was filled with brilliant minds and amazing mentors from years prior and subsequent (many of whom I now work with at H&K). We bonded over many long nights of blue booking, and I don't think I've ever been so thankful for UMLR's coffee machine."
Klock graduated from Miami Law magna cum laude and served as a clerk to the Honorable Mark M. Dowd, an administrative law judge for the DEA, a position she was awarded through the U.S. Department of Justice Attorney General's Honors Program.
"I always knew I wanted to work in the regulatory field and working at the DEA exposed me to the government side of the regulatory work, which I otherwise wouldn't have experienced in a firm," said Klock. "Judge Dowd was a seasoned administrative Judge, who spent years prosecuting cases before working as an ALJ for DEA. He gave me perspective — from both litigation and regulatory standpoint that I use in my daily practice."
Klock is currently an associate in Holland & Knight's Public Policy & Regulation group. Her practice focuses on FDA, USDA, and DEA regulated productions (food, drugs, biologics, and medical devices).
"I help clients get their products to the market, stay on the market, and avoid regulatory enforcement; assist clients with their federal and state legislative and regulatory advocacy efforts; and routinely perform due diligence and evaluate risks in commercial transactions." said Klock.
Klock loves D.C. as she considers it the best city that offers her a way to expand and grow professionally.
"I enjoy living in D.C. because of its culture, nature, and history," said Klock. "Being from upstate New York, I am also driving distance to my family, which is another plus."
Asked about her favorite experiences at Miami Law, Klock mentions two: her 1L section and her dog, Cutler, whom she adopted through the Humane Society of Greater Miami during her second year.
"The Miami Law community is incredible, and my best friends are from law school," said Klock. "Cutler, would regularly come and sit on the Bricks with my friends and me, join us in the UMLR office, and occasionally attend a law school class. He is very proud of his honorary Miami "Paw" degree."
Read about the LawWithoutWalls Program
Read about Miami Law's law reviews.