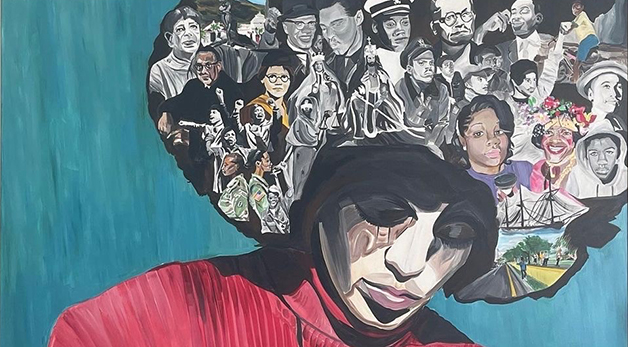 Sydney Maubert's 2021 acrylic on canvas painting, "On the Shoulders of Giants."
The Robert H. Waters Chapter of the National Black Law Student Association and Miami Law recently recognized Jaret Davis, J.D. '99 and B.A. '96, with the virtual re-dedication of the Jaret L. Davis BLSA Racial Justice Collaborative Workspace, located within the Law School Student Organization Suite at the Donna E. Shalala Student Center.
"I envision this space continuing to serve as a refuge and safe space for the disenfranchised, so they may use it to grow as lawyers and civic leaders, in a similar manner to how the law school nurtured the same in me," said Davis. "By cultivating this personal growth, we can create an optimal environment for dialogue and connectivity. We can no longer operate in silos of race, gender and nationality. Through shared experiences, we can learn to appreciate our common threads and grow together with a commitment for change."
The event, attended by nearly 200 guests, also served to unveil a gift to the law school: artist Sydney Maubert's 2021 acrylic on canvas painting, "On the Shoulders of Giants." The work depicts icons of Black history from civil rights activist Eula Johnson and Malcom X, victims of police violence Breonna Taylor and Emmett Till to local legends Marvin Dunn, Arthur McDuffie, all within the afro of Angela Davis.
Student Bar Association President Jordan Rhodes gave a video tour of the space and a docent-worthy appreciation of the painting; other students collaborated on video discussing what the space means to them.
"Jordan's tour of the space and detailed description of Sydney's artwork left me in goosebumps and choked up," said Miami Law Dean and M. Minnette Massey Professor of Law Anthony E. Varona. "It was so very moving. What she said about intersectionality, tying into Jaret's own words about the importance of collaboration and dialogue, was powerful.
"It was an absolutely perfect event. As I have said to several colleagues and alums since, it was a sacred event. That's the best way I can describe it," said Varona.
SBA President introduces the Jaret L. Davis BLSA Racial Justice Collaborative Workspace 
Students and artist discuss the importance of the Jaret L. Davis BLSA Racial Justice Collaborative Workspace