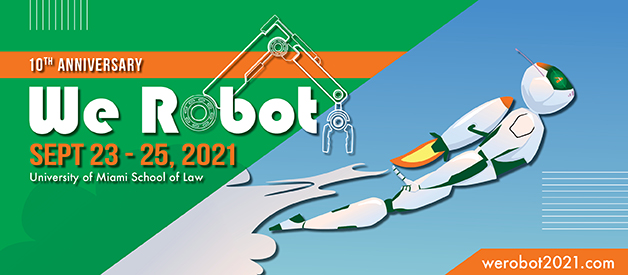 CORAL GABLES, Fla. (February 1, 2021) – We Robot, the yearly interdisciplinary conference on the legal and policy questions relating to robots, call for papers proposals extended to close on February 8, 2021. Posters will be accepted on a rolling basis until June 1, 2021.
The 2021 conference, currently scheduled to be held both in person and virtually at the University of Miami School of Law, the founding institution, on September 23 through 25, unites those on the front lines of robot design, development, and deployment with legal policy makers and influencers in the legal and social structures in the robotic sphere.
Marking the 10th anniversary of the conference, We Robot 2021 seeks contributions by North American and international academics, practitioners, and others, in the form of scholarly papers, technological demonstrations, or posters, and particularly encourages papers with co-authors from different fields, e.g. interdisciplinary collaborations between developers of robotics, artificial intelligence, and related technology and experts in the humanities, social science, and law and policy.
The conference will build on a growing body of scholarship exploring how the increasing sophistication and autonomous decision-making capabilities of robots and their widespread deployment everywhere from the home, to hospitals, to public spaces, to the battlefield, disrupts existing legal regimes or requires rethinking policy issues. The purpose of this conference is to continue to frame (and report on) research agendas relating to the deployment of robots in society, to inform policy-makers of the issues, and to help design legal rules that will maximize opportunities and minimize risks arising from the increased deployment of robots in society.
Previously, the conference has been held at University of Miami, University of Washington, Stanford, Yale, and University of Ottawa.