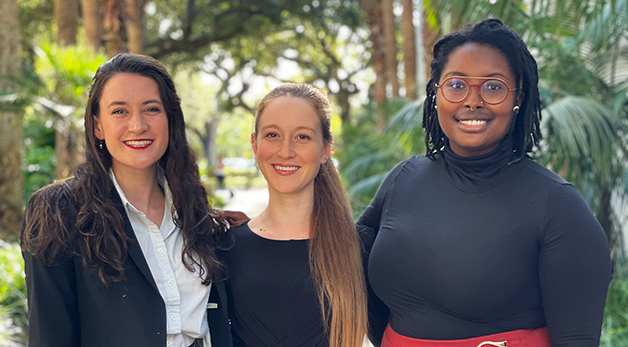 Miami Law students Samantha Cristol, Jordan Maun, and Nteboheng Mokuena
After working hard all semester, Miami Law students Samantha Cristol, Jordan Maun, and Nteboheng Mokuena took home first place at the Environmental Law and Policy Hack Competition hosted by the Elisabeth Haub School of Law at Pace University. Professor Jessica Owley, faculty director for Miami Law's Environmental Law Program, coached the team.
Cristol, 1L, graduated with a degree in civil engineering from the University of California, Berkeley. She worked for three years in the construction management industry in San Francisco before studying at Miami Law.
Along with studying at Miami Law, Maun, 2L, is pursuing a joint degree for a Master of Professional Science in Marine Conservation. She received her B.S. in Marine Science at the University of Florida and has volunteered at an environmental research lab.
Before studying at Miami Law, Mokuena, 1L, received a B.A. in political science with a gender, race, and politics concentration from American University. She has worked in digital advocacy, participating in a successful campaign to stop the construction of a pipeline expansion project.
For the competition, teams were tasked with selecting a body of water and identifying potential sources of nutrient contamination. They then developed strategies, policies, and other initiatives to reduce nutrient pollution of their chosen body of water. Miami Law's team was one of three that moved onto the finals. Cristol, Maun, and Mokuena focused on the nutrient pollution of Biscayne Bay caused by overuse of agricultural fertilizer, deficiencies in wastewater systems, and stormwater runoff.
They consulted Miami Law faculty and scientists, tribal leaders, community leaders, attorneys, and elected officials in Miami-Dade County. Through these consultations, the team received a better understanding of Biscayne Bay's issues and the relevant legal authority. Proposed solutions included, among other initiatives, the construction of rain gardens and bioswales using native plants, which act as a natural filtration system and remove excess nutrients from water that would otherwise oversaturate the Biscayne Bay with nutrients.
The judges praised Miami's team for their enthusiasm, creativity, and hard work. The judges were also impressed by the team's understanding of complicated legislation, such as the Clean Water Act, especially because the team was primarily composed of 1Ls who had not taken an environmental law class yet.
Cristol, Maun, and Mokuena won a trophy and a $2,000 cash prize to implement their policy concept for their first-place finishing.