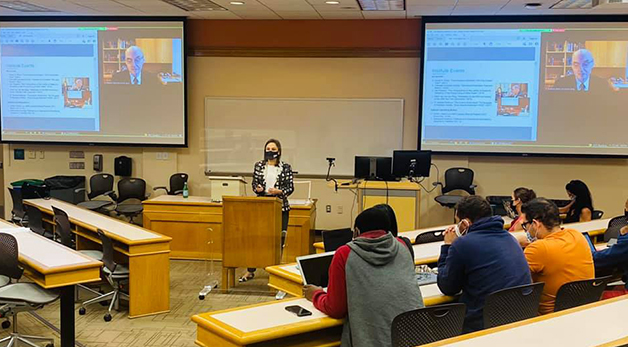 Carolyn Lamm speaking at the International Arbitration lecture
Earlier this month, the White & Case International Arbitration LL.M. program at Miami Law hosted an International Arbitration Lecture & Welcome Reception with Carolyn Lamm and Albert Jan van den Berg to kick off the Fall 2021 semester. During the lecture, Lamm and van den Berg gave an insightful presentation on the evolution of commercial and investment arbitration and shared advice for a successful career in the field of international arbitration.
Carolyn Lamm, a Miami Law alumna (J.D. '73), is a partner and chair of International Disputes – Americas at White & Case LLP in Washington D.C., where she focuses on international arbitration and dispute resolution, trade matters and cross-border commercial federal court litigation. She also serves as Distinguished Faculty Chair of Miami Law's International Arbitration LL.M. program and teaches an annual course on "Investment Arbitration" in the program.
Albert van den Berg is a founding partner of Hanotiau & van den Berg in Brussels, Belgium and a renowned international arbitration practitioner, having served as sole, presiding and party-appointed arbitrator in numerous international arbitrations and before many institutions. He also has published extensively on international arbitration, in particular on the New York Convention, and teaches an annual course on "International Arbitration and the New York Convention" in the LL.M. program.
During a brief introduction on international commercial and investment arbitration, Lamm explained that cases had drastically increased since the early 2000s, as dispute resolution users nowadays prefer international arbitration for its neutrality and confidentiality. With Spain now being the top respondent country in investment cases, van den Berg proceeded to discuss the legal framework for investment disputes involving member states and investors of the European Union, which has been critical of the use of international arbitration in these situations. Both Lamm and van den Berg also shed light on some other recent developments in the area of international arbitration in the U.S., including the pending circuit split on the application of 28 U.S.C. § 1782 to obtain disclosure related to an international arbitration proceeding seated outside of the U.S. and the scope and interpretation by U.S. courts of the principle of competence-competence, considered a cornerstone of international arbitration.
Lastly, discussion turned to the Convention on the Recognition and Enforcement of Foreign Arbitral Awards (1958), also known as the New York Convention, which now counts 168 contracting states around the globe. "The New York Convention may have reached its expiration date," concluded van den Berg, adding that many aspects of the Convention are outdated and should be amended and encouraging students to shape the future of the intentional arbitration process.
"Events like this one are what makes this International Arbitration LL.M. so special" said Emma Refuveille, a student from France in the International Arbitration J.D./LL.M. Joint Degree program and E-Fellows Scholarship holder. "Students get to meet world-renowned practitioners and learn from the best in the field. Some students even get to work alongside them through the International Arbitration LL.M. Practicum, a semester-long placement with law firms or arbitral institutions, like White & Case and ICSID."
"Not only has the event given us invaluable insights on recent developments of International Arbitration from Professors Lamm and van den Berg, it gave us the tremendous opportunity to meet and network with two of the best professionals whose awards, articles and books we read in our everyday practice," added Cristian Gallorini from Italy, a student in the International Arbitration LL.M. and AIJA Scholarship holder. "The overall experience was enhanced by the convivial setting that the program created for our small group of LL.M. students."
After the lecture, students enjoyed an outdoor lunch reception.
***********
Miami Law's International Arbitration LL.M. provides a unique individualized curriculum for a small group of top quality students from around the globe who wish to acquire in-depth knowledge and skills in the field of international commercial and investment arbitration as a platform for a successful career. After graduation, the LL.M. Program provides options for students to sit for the bar exam in several U.S. states, including New York, and obtain a one-year post-graduation optional practical training (OPT) work permit. Miami Law also offers a three-semester Intensive Legal English + International Arbitration study option and a J.D./LL.M. Joint Degree in International Arbitration, which allows students to complete both degrees in as little as two years.