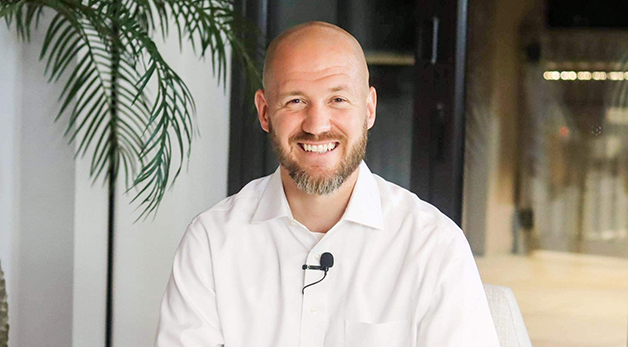 Andrew Darling, J.D.'18
Home is where the heart is – a statement best understood when speaking with Miami Law graduate, HOPE scholar/fellow, and Orange County local Andrew Darling, J.D. '18. As a social justice advocate, Darling has no shortage of dedication to his community. A veteran, campaigner, husband, and father to two, Darling is now completing his second year since opening his criminal defense and civil rights defense firm.
"The first few months were rough," Darling says, "but I knew the work I was doing was more than needed here in Orange County." Darling, who previously worked as an assistant public defender in Orange County, explains he has been able to provide quality services to the same clientele without the prohibitive expenses of private services.
"What really pushed me to open up the firm occurred after I ran for county sheriff in 2019 for the 2020 election," Darling says. "I ran on a criminal justice reform platform. It was unheard of; I mean, no one does that." Despite the loss, Darling was determined to advance criminal justice reform in his hometown and set out to start his firm, Andrew Darling Law, P.A.
"Attorneys can miss the mark. In law, you're really only required to understand the legal issue without consideration of the human part," Darling says. "My clients' legal issues don't exist in a vacuum. Their background, financial situation, living situation, and how the criminal justice system exacerbates the problem are all contributing factors.
"If I can give the jurors or judge an alternative perspective, even if the case isn't winnable, there is progress," he said.
Darling's upbringing played a large part in where he is today. "My brother and I grew up poor in a single-parent home. You know how the struggle goes." Darling explains he has long been aware of injustice in the system. "Seeing friends get arrested for things people shouldn't be arrested for – I knew I wanted to help, but I didn't know where my lane was."
Before he even graduated high school, Darling became a father to his daughter. "I had every reason to not succeed," Darling says. "But I just kept moving forward, and motion got me somewhere." After graduation from high school, he joined the Army and had two deployments to Iraq before 2011. He obtained his bachelor's in business administration and a master's in human resources from Strayer University.
"I worked in mattress sales, I was a business owner, and I eventually got into personal injury work as a paralegal," he said. Darling explains law school was always on his radar, but he didn't apply until 2015. "I was in law school in North Carolina and made the 90-mile commute to my school from South Carolina. I worked hard to make the top 15% of my class my first year, and, knowing I wanted to get back to Florida, I applied as a transfer to Miami Law." Darling explains Miami Law made sense – a lively community where he could grow and learn.
During his time at Miami Law, Darling explored criminal law as an intern at the Office of Criminal Conflict and Civil Regional Counsel, the Orange County Public Defender's Office, and at the American Civil Liberties Union of Florida. By the time he graduated, Darling had a footing in criminal law and was welcomed back to the Orange County Public Defender's Office as a newly practicing attorney.
"I thought I was busy back then," Darling chuckles. "Now, between work and extra projects – it can feel like a rat race some days."
"Now for law students," Darling advises, "go talk to your professors. Go to office hours and use your resources. Also, finding out what you don't want to do as a lawyer can be more important than finding out what you do want to do. You'll learn not to compromise yourself, and eventually, you'll end up right where you need to be."
More on studying criminal law at Miami Law
More on social justice and public interest opportunities at Miami Law
Read more about Miami Law's HOPE Public Interest Resource Center