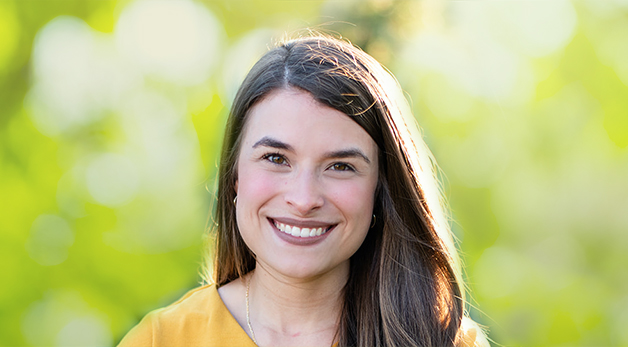 3L Estefania Lalinde
Last summer, current 3L Estefania Lalinde spent her time honing her legal skills as a summer associate at global law firm Baker McKenzie and as an intern at the MacArthur Foundation in Chicago, one of the nation's largest independent foundations. The Miami Public Interest Scholar worked for eight weeks at Baker McKenzie in the areas of capital markets, project finance, intellectual property, cross-border transaction, and tax. At MacArthur, where she interned for six weeks remotely, Lalinde reviewed investment agreements, grant reports and proposals, and drafted memoranda on tax rules applicable to private foundations.
"As a Venezuelan, it has always been a priority of mine to be able to work with Latin America, and Baker allowed me to do that and so much more," said Lalinde. "I also was lucky to have mentors who focused on providing me with all the tools I needed to succeed as a summer associate, and I feel very grateful to have experienced Baker's global reach first-hand."
The wide range of assignments at MacArthur also allowed Lalinde to better understand the attorney's role in effectuating change at a private foundation.
"Having taken Josh Mintz's short course in 'Emerging Forms of Philanthropy' last fall, it was a privilege to be able to put the theories to practice at a foundation with a reach like MacArthur's," explained Lalinde. "This summer solidified my interest in the field of impact investing. As a newer form of philanthropy, I think the impact investing space will continue to grow, and I am eager to develop the transactional skills that will allow me to engage in this type of work."
A graduate of the University of Florida, Lalinde decided to attend Miami Law for her legal education because of the Miami Public Interest Scholar Program.
"When I ​interviewed with Dean Marni Lennon, I was drawn to the passion with which the HOPE office carries out its mission, and I knew I wanted to be a part of it," said Lalinde. "I also appreciated that I could come into law school with a set group of like-minded students, some of whom have become great friends. This helped me feel a sense of camaraderie even during the busy and stressful times, and I realize that the entire program is an immense privilege."
Another factor in choosing Miami Law was the International Moot Court Program where she participated in its first-ever virtual Spanish competition – the International Commercial Arbitration Competition on the only U.S. team and one that won the third-best respondent brief among 58 schools. Lalinde appreciated the opportunity to compete in Spanish, which allowed her to improve her legal Spanish and work directly with the director of the program, Paula Arias, who taught her "what I know about discipline and hard work."
In addition, Lalinde has also served as a research assistant to Associate Dean for Experiential Learning Kele Stewart and Professor Stephen Schnably and as an intern for the Center for Ethics and Public Service where she participated in the Community Equity, Innovation, and Resource Lab to stop the displacement and resegregation of inhabitants of the West Grove.
After graduating this upcoming May and taking the Bar exam in July, Lalinde will be joining Baker McKenzie's transactional group in Miami as an associate.
"The transactional practice at Baker is quite broad, but I am especially excited to engage in cross-border transactions and contribute to pro-bono initiatives."
Read more about the HOPE Public Interest Resource Center