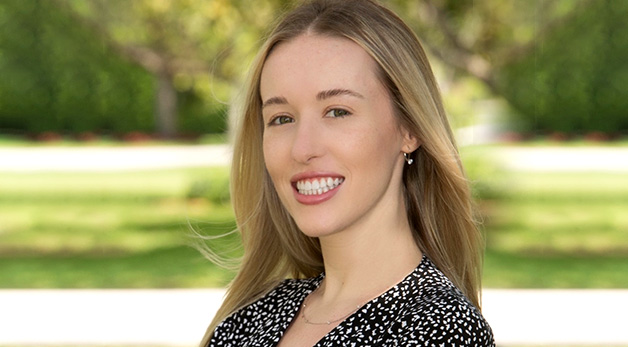 Kayla Lawless, 2L
Miami Law rising 2L Kayla Lawless has spent her summer as an intern in the legal department of Salesforce, a cloud-based, customer-relationship management software company which, in 2021, was ranked by Fortune magazine #2 on their list of "100 Best Companies to Work For."
The New York University graduate, who has a Bachelor of Science in hospitality management and a concentration in event production, has made the most of her 1L summer experience by learning different aspects of technology law. "I've had the opportunity to join a uniquely technology-driven, fast-paced, and dynamic environment in the Salesforce legal department," said Lawless.
Lawless has gotten plenty of hands-on legal experience during her summer at Salesforce. "I participate in drafting and negotiations, collaborate with counsel on global strategies, and evaluate critical legal issues related to privacy, corporate matters, and ventures legal."
The skills that Lawless gained during her 1L year at Miami Law have served her well during her internship. "It has also been rewarding to finally put my legal skills to practical use with a company that is making the world a better place while emphasizing strong values like trust and innovation."
While her work has helped her develop her legal skills further, the connections Lawless has made during her internship have also been valuable. "I've enjoyed getting to meet so many people across all of the company's offices and learning about new areas of law."
In addition to her work at Salesforce, Lawless is active in other extracurriculars at Miami Law. She currently serves as the Newsletter Chair for the Technology Law Club and the Alumni Relations Chair for Miami Law Women.
Lawless was interested in technology before her summer internship with the software company, an interest that has been strengthened during her internship. "This internship experience confirmed my passion for technology while exposing me to new interests."
Ultimately, like many law students during the summer between their 1L and 2L years, Lawless used her summer experience to narrow down her potential career path. "After learning about all of the verticals within the company, I can make more educated choices about my preferred areas of practice for next summer and the rest of my legal career."
"I'm interested in pursuing a legal career in technology, emerging companies, and venture capital," she added. Her experience at Salesforce, as well as her Miami Law education, will help her realize those aspirations.