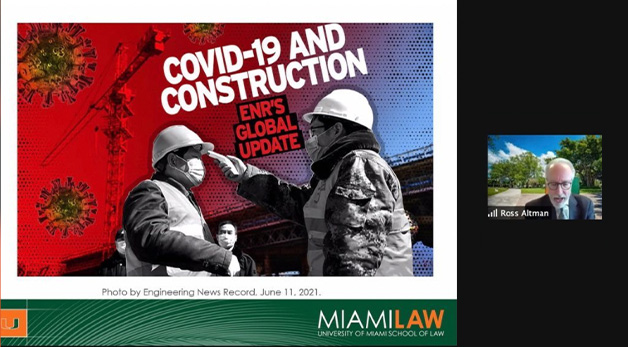 For a second year in a row, faculty members and leaders from Miami Law's Real Property Development LL.M. Program participated in the highly successful Miami Law's Summer Legal Academy, a virtual program for college students- primarily from underrepresented communities- interested in pursuing a career in law. The three-week-long program includes traditional and foundational first-year law classes along with electives like real estate law. Associate Dean and RPD LL.M. Director Raquel M. Matas led two sessions- one an introduction to Real Estate Transactions and Development, and one on Affordable Housing- joined by faculty experts and leaders in the each of the areas.
For the first session, Matas was joined by Professor Ross Altman, an expert in construction law. Matas gave an overview of the phases in real estate transactions and the areas a practitioner must be able to master, along with the challenges to real estate development presented by climate change, affordability issues and costs/benefits associated with sustainable development. Altman, a leader in the construction law industry, covered the different components of construction law: risk allocation, claims, and design-bid-build contract relationships. Altman also discussed the devastating collapse of the Champlain Towers South in Surfside, Florida, and a few of the possible consequences that will result from the tragedy. Altman predicted changes in building codes and building designs, a more conservative property insurance underwriting, and modifications to zoning ordinances.
Altman also shared details regarding his journey to becoming a construction lawyer and his experiences at both "big law" and in a boutique construction law firm, to give students a better understanding of how career paths sometimes work out in unexpected ways and of his duties and responsibilities as an esteemed construction lawyer.
"I love what I do," Altman said. "It's complex, but that's why I love it."
The second session focused on Affordable Housing. RPD LL.M. Developer in Residence Tony Prado, an affordable housing expert; and Ahmed Martin, Executive Director of the non-profit affordable housing developer Miami Beach Community Development Corporation, joined Matas for a discussion about the major challenges and potential solutions concerning affordable housing. The group discussed the history of housing policies in the United States and how governmental incentives to develop affordable rental housing, as opposed to home ownership, perpetuate the cycle of poverty by preventing a large segment of the population from creating wealth through home ownership, a prized priority in our society.
Prado, who is also an experienced banker, described another loop that aggravates the poverty cycle: the regulations demand that to be eligible for affordable housing one must be near poverty, but if the person were to pass that bar, they would be expunged from the benefits. This is a fault in the system that ought to be corrected.
Prado and Martin also addressed continuing rising construction costs as another barrier to meeting the demand for affordable housing. Building rental apartments with common amenities (sharing kitchen and other facilities, for example), developing smaller homes for sale, and amending regulations to facilitate home ownership, are some possible solutions to a serious housing affordability crisis.
"SLA has provided students with excellent resources and networking outlets. For example, within the Real Property Development LL.M. Elective, because of their fantastic course structure, students such as myself were able to grasp the fundamental principles necessary for property law. This program helped catalyze law-related passions within students and has laid out a path for young-developing undergraduates to engage with their said interests." said Misha Mikhaylov, a rising sophomore at UF.
"The Summer Legal Academy is a wonderful opportunity to introduce young students, many of them minorities and students of color, to an industry that would benefit from more diversity and inclusion," said Matas. "These students expressed a lot of interest in social justice issues. I hope many of them will choose careers in real estate, whether as a lawyer, developer, policy-maker, or entrepreneur. They have much to contribute."
Read about Miami Law's Real Estate Law Program
Read about the Real Property Development LL.M. Program at Miami Law