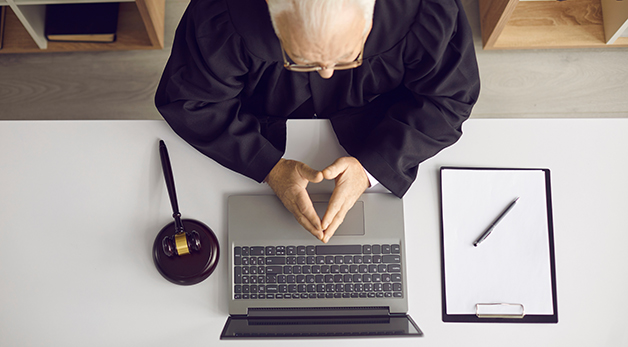 As the global pandemic descended, a sudden technological shift occurred within the practice of law. Miami Law's Legal Profession Program at the Center for Ethics and Public Service and the Miami-Dade Trial Lawyers Association recently tackled ethical issues arising in the virtual practice context in a panel discussion. Topics included best practices in virtual trials and pretrial proceedings, witness coaching risks in virtual settings, virtual document exchange, and client confidentiality risks in virtual settings.
Led by Eric Bluestein and Aaron Bos-Lun, CEPS and the MDTLA presented "Emerging Ethical Issues in Virtual Pretrial and Trial Practice," a CLE training program focused on virtual practice, to an audience 67 federal judges, state judges, and seasoned practitioners, and provided an opportunity for judges and litigators across South Florida to come together and weigh the importance of ethical virtual practice.
CEPS interns made introductory remarks to welcome the panelists and moderator. Program speakers included two judges – Chief Judge of the 11th Judicial Circuit Nushin G. Sayfie and 11th Circuit Civil Division Judge Gina Beovides – and two practicing attorneys – Matthew Mazzarella, partner at Boyles Law Group, and Randy Rosenblum, partner at Dolan Dobrinsky Rosenblum Bluestein, LLP.
The four panelists analyzed the fact patterns, with Professor Anthony Alfieri facilitating the discussion, against the backdrop of the Florida Rules of Professional Conduct.
CEPS interns Nicoletta Pappas, Stephanie Sanchez, Haneefah Saleem, Madison Monzon, and Matthew Shalna created the content, consisting of four fact patterns. Each fact pattern drew attention to a few ethical dilemmas addressing different, imperative issues within virtual trial practice. Topics included the risks of witness coaching, conducting virtual depositions and hearings, and overseeing remote staff.
Longstanding clinical training opportunity
Founded in 1996, the Center for Ethics and Public Service is a law school- housed ethics education, experiential skills training, and community engagement program devoted to the values of ethical judgment, professional responsibility, and public service in law and society. The center's mission is to educate law students to serve their communities as citizen lawyers.
Read more about the Center for Ethics and Public Service
More on Litigation, Arbitration and Dispute Resolution at Miami Law