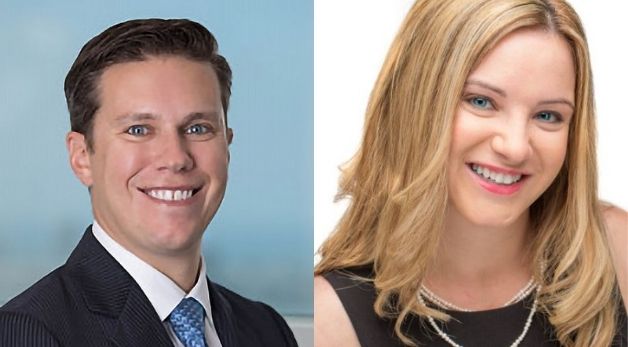 Daniel Barsky and Jaime Rich Vining
Miami Law named Jaime Rich Vining and Daniel Barsky co-directors of the Startup Clinic, formerly known as the "Startup Practicum."
Law students in the clinic – one of 10 clinical training opportunities Miami Law offers – provide free legal services to entrepreneurs to support and foster the growth of South Florida's booming entrepreneurship community
Examples of the types of matters the Startup Clinic may accept include: selecting and forming a business entity and counseling clients regarding the different types of business entities; evaluating, negotiating and documenting financing transactions; drafting independent contractor, employee, joint venture and other agreements; protecting intellectual property, including applying for patents, trademarks and copyrights, and drafting Terms of Service and Privacy Policies for websites and apps.
Co-directors standouts in the industry 
 Vining, a longtime clinic adjunct, is a partner with Friedland Vining in Coral Gables. Her practice focuses primarily on trademark, copyright, entertainment, and internet law. Specifically, she counsels clients on the acquisition of new trademarks, conducts clearance investigations and renders availability and infringement opinions, and provides legal advice regarding trademarks and related unfair competition issues. 
Since 2009, she has been named a "Top Up and Comer" and "Rising Star" by Florida Trend's Legal Elite, the South Florida Legal Guide and Florida's Super Lawyer Magazine. She was also one of the recipients of the Daily Business Review's "On the Rise" award for Professional Excellence in 2017.
Vining earned her juris doctor from the University of Miami School of Law in 2006 and holds a Bachelor of Arts from the University of Central Florida. She is a Florida Bar-certified Intellectual Property Attorney. 
"I have been a supporter of the Startup Clinic since it first launched years ago," said Vining. "I was honored when the University approached me about leading the Clinic with Dan. Miami has emerged as this tech startup hot spot and there is a significant need for pro bono legal services for local entrepreneurs. We view the goal of the clinic is to provide students with authentic experiences in client management while serving the expanding startup ecosystem in Miami."
Vining also teaches trademark law and business strategy. 
Barsky, also a longtime clinic adjunct, is an intellectual property attorney in Holland & Knight's Miami office. Barsky regularly represents clients in intellectual property, information technology and data-related licensing and transactional matters, including mergers and acquisitions, private equity transactions, joint ventures and multilateral and multinational licensing agreements. Barsky's clients call upon him to navigate complex transactions involving IP, IT, and data assets. He assists and advises clients with navigating the complexities of transactions involving intangible assets such as patents, trademarks, copyrights, trade secrets and data, brand licensing and distribution agreements, blockchain technology such as cryptocurrency and non-fungible tokens, software and technology licensing agreements, and transition services agreements. Barsky also assists clients with the maintenance and enforcement of their IP and IT portfolios with an eye toward leveraging those portfolios to drive revenue and growth. In addition to his transactional and counseling work, Barsky maintains an active, nationwide IP and IT litigation practice.
Barsky received his Bachelor of Science in biological chemistry and economics from Bates College and his juris doctor from the University of Miami School of Law in 2006. He is a registered patent attorney and admitted to practice in Florida and Minnesota. 
Barsky has been recognized as a "Rising Star" by Florida Super Lawyers in 2010, 2011 and 2013-2020, as Florida Legal Elite in Florida Trend magazine in 2021, and as a Top Lawyer for Intellectual Property by Palm Beach Magazine.  He was also one of the recipients of the Daily Business Review's "On the Rise" award for Professional Excellence in 2017. 
"I am thrilled to be named co-director of the Startup Clinic with my classmate and longtime friend, Jaime," said Barsky. "We have seen a rapid expansion in startup, venture capital, and private equity activity in Miami, but for the growth potential of Miami to be fully realized we need to meet the human capital needs as well – a highly educated and well-trained talent pool to serve our growing economy. I am honored the University has entrusted me to help meet that need by naming me as co-director of the Startup Clinic." 
Barsky also teaches patent litigation. 
Students appear before U.S. Patent and Trademark Office 
Miami Law is one of only 29 law schools in the nation, and the only one in the state of Florida, granted formal certification for both trademarks and patents certification so that its students can appear directly before the United States Patent and Trademark Office on behalf of their clients in trademark and patent applications. Vining and Barsky are two of the attorneys who originally sponsored the Startup Clinic to participate in the special Patent and Trademark Office program. 
For more information about Miami Law's Startup Clinic, including how to apply for services, visit www.law.miami.edu/startup. 
More on technology law at Miami Law. 
More on intellectual property law at Miami Law.