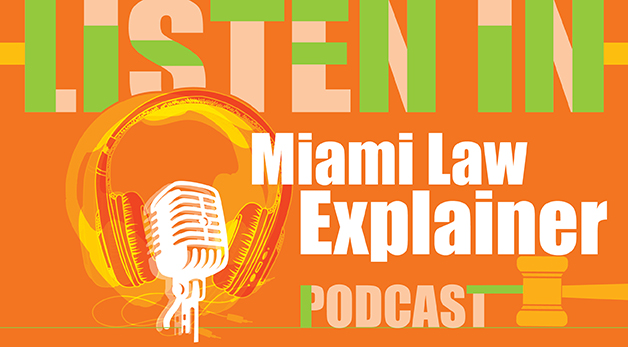 Miami Law's own legal affairs podcast, the Miami Law Explainer, returns on August 23 with season seven of experts diving into, drilling down, and sussing out the context and relevance of in-the-headlines issues.
The season kicks off with Professor Timothy Loftus and two of his students from one of Miami Law's 10 clinics discussing the widespread issue of health disparities in the United States and the work that Miami Law is doing locally on community-centered health law and policy research, advocacy, and reform in partnership with other stakeholders.
Upcoming episodes include the Explainer tackling the ecological failure at Piney Point, justice delayed for a wrongfully accused Florida inmate, and delve into class action litigation work growing out of the deadly Sunrise condominium collapse.
With 29,000 downloads from listeners as far away as Brazil and Germany since its unveiling in 2018, the podcast is closing in on its 100th episode, including last season's top tracks "What's Next for Derek Chauvin," "Parler Can't Catch a Break," and "Inundated by Cancel Culture."
The Explainer episodes drop biweekly during the academic year and can be heard on most podcast providers including iTunes, Stitcher and SoundCloud, where seasons one through six of the Explainer are available for binging.
Subscribe to the Explainer podcast and follow the Explainer on Miami Law's Facebook and Twitter so you'll never miss an episode and join us looking at issues from 3,000 feet to under a microscope.
Read about the launch of the Explainer