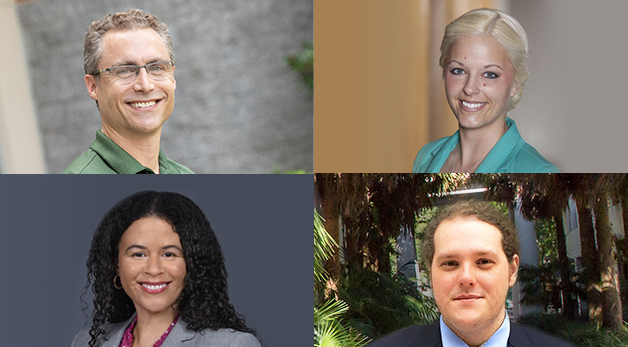 Steven Maxwell, Erin Okuno, Odetta Clarke, and Jack Townsend
As Miami Law ramps up again for a brand-new academic year, numerous new hires round out and complement available services for students.
Steven Maxwell leads our Academic Achievement Program team, comprised of Associate Directors Rodney Rawls and Brian Sites, and Assistant Director Lori Maroon.
Maxwell comes to Miami Law from the University of Florida Levin College of Law, where he oversaw the bar success efforts and was known as an outstanding academic achievement and bar success expert who accomplished great things at UF. He has been credited with elevating UF's bar pass rates significantly during his tenure there, and helping to devise curricular requirements and resources, early interventions, and intensive coaching for graduates in the months before the bar exam. Maxwell will be joining Miami Law as director of academic achievement/bar success.
Rounding out legal writing faculty
Erin Okuno also joins Miami Law as a professor of legal writing and lecturer in law. She will be part of the legal communications and research skills program, which provides comprehensive training in legal analysis, reseach, and writing and uses simulated client cases to produce practice-ready students. She previously taught law students and undergraduate students as a visiting or adjunct professor at four different universities. Before joining Miami Law, she served as the assistant director of Stetson's Institute for Biodiversity Law and Policy, where she worked on environmental research and writing tasks and coordinated environmental conferences, events, and educational opportunities for students, attorneys and other professionals. Okuno also served on the competition committee for the Stetson International Environmental Moot Court Competition. She began her legal career at Stearns Weaver Miller Weissler Alhadeff & Sitterson, P.A. in Tampa, Florida.
Okuno's research and scholarship focus on environmental law, particularly wetlands, biodiversity, endangered species, de-extinction, and international environmental law.
"We are thrilled to have Professor Okuno join the LComm team. Her experience in environmental law complements the diverse practice experience of the LComm faculty," said Jill Barton, director of the legal writing program. "Our students will benefit from Professor Okuno's extensive experience in teaching legal writing and coaching moot court, not to mention her enthusiasm and love for the classroom."
Expansion in the student services suite
Odetta Clarke, J.D. '12, and Jack F. Townsend, B.A. '14, J.D./LL.M. '17, onboard as assistant directors of Student Life.
Clarke came to Miami Law as a law student after earning her B.A. at Columbia University, a master's degree at the University of Rochester, a master's in Fine Arts at the University of Michigan, and serving as a Fulbright Fellow in Dakar, Senegal. Clarke began her studies at Miami Law as part of the James W. Johnson and Robert H. Waters Summer Institute. Clarke was a student ambassador, judicial intern to the Honorable Gerald B. Cope, Jr., research assistant to Professors Marnie Mahoney and Paula Arias, and member of the International Moot Court Program. She returned to work at the University of Miami several years ago, first as an IRB regulatory analyst, and most recently as a contracts and grants officer.
Townsend is a triple 'Cane, having graduated with his Bachelor of Arts in International Studies in 2014, and then his J.D. and LL.M. in International Law degrees, magna cum laude, in 2017. Before returning to Miami Law, Townsend was an associate at the Scherer Law Firm where he practiced civil litigation. As a distinguished student at Miami Law, he served as a Dean's Fellow in torts and constitutional Law, and a legal intern for the Center for Ethics and Public Service's Environmental Justice Project. He received the CALI Award for Media Law, Public Interest Law, and the Environmental Justice Clinic, as well as the Roger Sorino Award for Leadership.
Clarke and Townsend fill out Miami Law's student affairs team of Dean of Students Janet Stearns, Assistant Dean of Student Amy Perez, Director of Accessibility Services Jessie Howell, and Director of Law Reviews and Moot Courts Farah Barquero. Townsend will serve as the point of contact for 1L students in Sections A and B, and Clarke for Sections C and D. The newly created role of assistant directors will enable the team to support our student organizations, and implement additional programming around well-being, diversity & inclusion, financial literacy, professional development, and bar admission.
"Serving our students truly takes a village, and we are grateful to every member of our student affairs team who make this important work possible," said Stearns. "We are dedicated to our mission of ensuring that our law students have positive and engaging experiences at Miami Law, and then graduate into happy alumni."