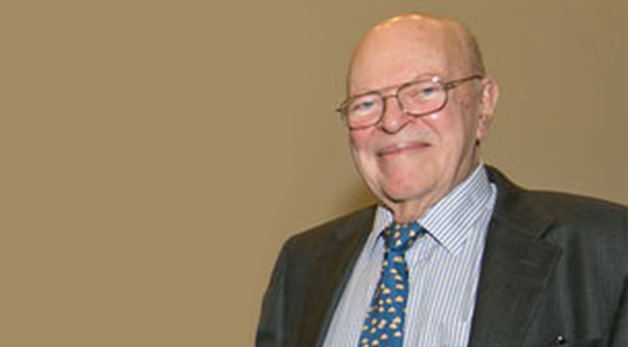 Peter Lederer
Legendary global lawyer and LawWithoutWalls co-founder Peter Lederer died suddenly at home in New Milford, Connecticut Sunday, August 8, 2021.
Lederer's association with Miami Law extends back to Soia Mentschikoff's deanship (1974-1982), when she asked him to be part of the School's Visiting Committee. Through the decades following, he was an important member of the Miami Law community, serving as an adjunct professor and Distinguished Visitor in Residence.
Among the many roles he played in recent years, he worked closely with Michele DeStefano, professor of law and founder/director, on LWOW and was a strong supporter of the Laurie Silvers and Mitchell Rubenstein Distinguished Professor of Law A. Michael Froomkin's We Robot conference. Lederer also served as a visionary counselor on the future of legal education and practice, a topic of keen interest to him. Even the day before he died, he posted on Twitter a brief provocation paper calling for a thorough restructuring of legal education and law practice. In these and so many other respects, he was an invaluable resource for faculty, staff, students and alumni, and a strong supporter of the law school. 
He was a wonderful colleague from the time he first became involved with our School in 1974," said Dean Emeritus and Professor of Law Emeritus Dennis O. Lynch. "He helped to mentor young faculty, including me. We had fascinating conversations about his vision of the future of legal education. He spent hours with students discussing careers and encouraged them to consider an international practice.
"He also helped to place a number of our graduates with his law firm," said Lynch. "Most of all he was a great friend."
Lederer's career spanned more than seven decades of sophisticated work in law and the business world. He served many years as a partner of Baker & McKenzie, the global law firm, having joined the firm as its 17th partner. After seven years in Zurich – where he opened the firm's office – he returned to New York, serving as the senior partner of that office until 1994. He also served for many years as a member of the firm's top global management bodies. For some 25 years Lederer served as general counsel to the electric utility owned insurance company, Nuclear Electric Insurance Limited. He also acted as counsel for the establishment of Deloitte Touche Tohmatsu, the international accounting firm, then serving as its general counsel from 1989 to 1994.
Escaped to United States
Lederer was born in Austria and fled to the United States with his parents in 1938 in the wake of the Anschluss. He received his law degree from the University of Chicago – where he was Karl Llewellyn's research assistant – and practiced for over 40 years with Baker & McKenzie, first in Zurich and then in New York. At Baker & McKenzie, he served as Senior Partner for many years until 1994, as well as being part of the firm's senior global leadership. His time at Baker & McKenzie was followed by strategic planning consulting for major global enterprises and the founding of an internet startup.