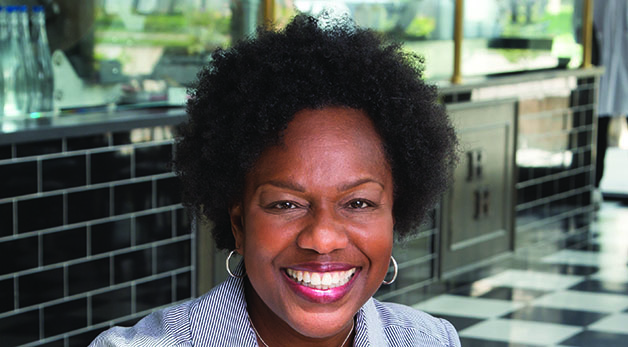 Assistant Dean Marcy Cox
When Assistant Dean Marcelyn Cox was lured from a seven-year career as a commercial litigator in Los Angeles and Miami by then Miami Law Dean Samuel Thompson in 1997, she never imagined she would stay for two dozen years. But when a friend at a storied international law firm reached out in early spring 2021 to ask her to consider joining their diversity, equity and inclusion team, it gave her pause.  
"When Skadden first approached me, I thought about it long and hard, and ultimately decided to throw my hat into the ring," said the assistant dean for Career Development. "South Florida has been my home for so long but to join a firm of this magnitude and help shape the firm's recruitment, professional development, retention, advancement and cross-cultural awareness moving forward is a chance to put an important imprint on the legal industry." 
Cox will be heading to Skadden's head office in Hudson Yards in New York City next month to support the global firm's diversity, equity and inclusion initiatives. 
"Dean Cox's departure is a great loss for us, but also a moment to reflect on her immense contributions to Miami Law over 24 years," said Acting Dean Stephen Schnably. "Her work leading our efforts to help students and alumni plan and advance their careers has been outstanding. Her leadership roles in the National Association for Law Placement, including as president in 2011-12, speak to her national stature. As advisor to Miami Law's Black Law Students Association, as a board member for the Kozyak Minority Mentoring Foundation, as a mentor in the Women of Tomorrow Mentor and Scholarship Program, and in countless other ways, Dean Cox has worked tirelessly to make Miami Law and the legal profession more diverse and inclusive.  
"Personally, I'll very much miss Marcy, a valued colleague and friend over the years, and I know that's true of so many others here. But we all wish Dean Cox the best of luck in her new role at Skadden. And we are firmly committed to building on the legacy she leaves us," he said. 
All the experience for success 
The Key West native, who was profiled in Miami Law Magazine in 2019, is well positioned after serving in essential leadership roles throughout legal career networks, including serving as president of the National Association for Law Placement and as both a president and member of the board of directors, chair of the Diversity Section, chair of the Audit, Investment and Nominating Committees, vice chair of the Conference Planning Team, and liaison to the American Bar Association Commission on Racial and Ethnic Diversity in the Profession. 
"Dean Cox has been a monumental presence at Miami Law well before my arrival," said Professor Charlton Copeland. "She has guided the launch of the careers of countless students and is likely singlehandedly responsible for a sizable portion of any increase in diversity in the ranks of Miami's leading law firms.  
"Having worked closely with Dean Cox on a number of projects — Florida Supreme Court and Washington D.C. externships, for example — I can attest to her creativity, professionalism and care for our students and their career success. Her departure marks the loss of two senior Black women colleagues who have had transformative impacts on Miami Law. This is a tremendous loss, but she deserves every success at Skadden. May they endeavor to deserve her," Copeland said. 
She has also served as the president of the South Florida Association for Law Placement, chair of the Southeastern Law Placement Consortium, and a member of the Florida Bar Committee on Professionalism and the Florida Supreme Court Standing Committee on Fairness and Diversity. Cox cites her work with the Kozyak Minority Mentoring Foundation and the work done as part of her role as the faculty adviser to the Black Law Student Association as the most impactful work she was a part of while at Miami Law. 
 "While at UM, Marcy made all students feel that they belonged," said former vice chair of the University of Miami Board of Trustees and noted trial lawyer H.T. Smith, Jr., J.D. '73. "She made law alumni feel appreciated, and she made our community better." 
Cox received a Bachelor of Arts from the University of Southern California, a law degree from the University of California, Berkeley, School of Law, and a Master of Fine Arts in Film from the University of Miami.  
"I will, of course, miss seeing students and colleagues at Miami Law on a daily basis, but I leave knowing that the CDO is in great hands under the leadership of Interim Assistant Dean Diane Quick and the dedicated and exceptional CDO staff," Cox said.  
"I'll be back in South Florida often for business and pleasure and I will enjoy hosting my Miami Law family in New York, one of my favorite cities in the world."