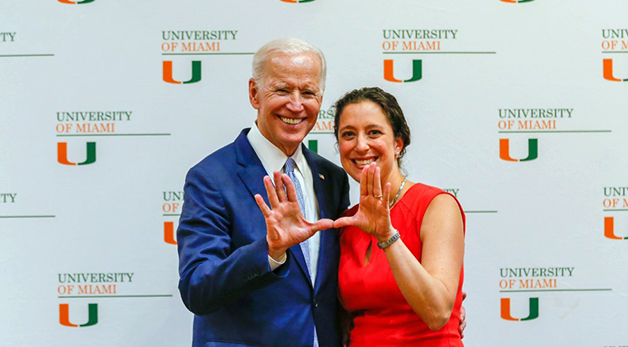 President Joe Biden with Professor Bettinger-López
The White House has appointed Caroline Bettinger-López as a Special Advisor on the White House Gender Policy Council, charging her with assisting in the development of a National Action Plan to End Gender-Based Violence in the United States.
"I am deeply honored to serve an administration that is so deeply committed to advancing equality and equity and to ending gender-based violence," said Bettinger-López, the founder and director of the Human Rights Clinic at the University of Miami School of Law. "In this role, I will work alongside visionary and effective colleagues in the federal government to develop a comprehensive plan of action to prevent and address the longstanding, but less visible pandemic of violence against women, girls, and LGBTQI+ individuals — which has only intensified during the COVID-19 pandemic."
On March 8, President Biden issued an Executive Order on Establishment of the White House Gender Policy Council that calls for the development of a National Action Plan to End Gender-Based Violence that establishes a government-wide approach to preventing and addressing gender-based violence in the U.S. Bettinger-López has argued extensively in her scholarship and public speaking that the U.S. needs such a national action plan.
In her new role, Bettinger-López will collaborate with the Special Assistant to the President and Senior Advisor on Gender-Based Violence, and the Executive Director of the Gender Policy Council, to coordinate the national action plan, which will incorporate multi-modal intervention, prevention, and public health strategies to reduce incidence and impacts of gender-based violence. This domestic-facing work will complement the federal government's comprehensive, interagency review and update of the 2016 United States Strategy to Prevent and Respond to Gender-Based Violence Globally.
As a leading advocate for gender-based equality and human rights, Bettinger-López has worked at local, national, and international levels to bring an end to violence against women. She previously served as the White House Advisor on Violence Against Women under then-Vice President Biden in the Obama administration and on the Women and Families Policy Committee of the Biden-Harris campaign.
As a litigator and an advocate, Bettinger-López has fought for the protection of victims of domestic violence and the provision of remedies for violations of survivors' rights, both in the U.S. and around the world. Before her legal career, Bettinger-López engaged in social services advocacy and youth education centered on women and girls' empowerment, as well as anti-violence programming.
"Professor Bettinger-Lopez's appointment to the White House Gender Policy Council exemplifies the best of Miami Law's long tradition of faculty members using their deep expertise to serve the public interest," said Acting Dean Stephen Schnably. "Her work in developing a national action plan to combat gender-based violence will save lives and advance gender equity and equality throughout the United States."
Bettinger-López will continue to teach at Miami Law and direct the school's Human Rights Clinic. She is taking a leave of absence from her position as an adjunct senior fellow at the Council on Foreign Relations.