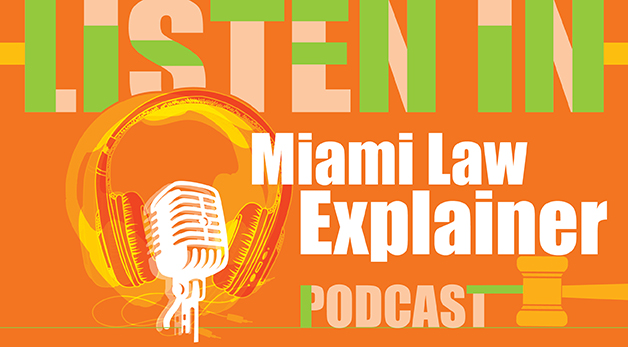 In a year like no other, the Miami Law Explainer delivered the sixth season of the law school's popular podcast where expert faculty dive into the headlines, sometimes to the sound of barking dogs and wobbly internet connections. As we draw to a close, we are gearing up for next season as we move into a new studio and the show crosses the 100-episode mark. In the meantime, more than 93 episodes are available to stream and binge, with our experts opining and explaining subjects ranging from Parler's fight with Amazon and Reddit as financial advisor to wokewashing and cancel culture, and that's just one season.
S6 E14 What's Next for Derek Chauvin? As former Minneapolis police officer Derek Chauvin awaits sentencing for the murder of George Floyd, Miami Law's criminal law expert and former special assistant U.S. Attorney Scott Sundby explains the process. Recorded on April 23, 2021.
S6 E13 Energy Justice for All The Biden Administration's $2.2 trillion infrastructure plan promises to prioritize longstanding and persistent racial injustices by transitioning to a more democratic energy system, including electrical grid and public transit. Miami Law's Fredman Foundation Practitioner in Residence at the Environmental Justice Clinic Abigail Fleming walks us around the biggest obstacles to energy justice. Recorded on April 16, 2021.
S6 E12 Inundated by Cancel Culture Cancel culture is rapid-fire ostracization in the time of social media mob mentality. Stories of people drummed out of their organizations over positions sometimes taken decades earlier fill the headlines and chyrons of cable news. Compliance expert Marcia Narine Weldon explains the good, the bad, and the ugly of today's phenomenon. Recorded on March 31, 2021.
S6 E11 The World v. Donald J. Trump Not unexpectedly, federal and state courts are awash in suits versus former President Trump and his minions. Litigation and dispute resolution expert Sergio Campos guides us through the waves. Recorded on March 25, 2021.
S6 E10 Killing the Death Penalty South Carolina recently introduced a bill to allow death by firing squad, while Virginia passed legislation to abolish the death penalty. Thirteen of the 17 federal executions carried out in the last 60 years were under the Trump presidency. Death penalty expert Scott Sundby tracks where we've been and where we are going. Recorded on March 11, 2021.
S6 E9 The Trouble with Yemen President Biden has cut off U.S. support for offensive operations in Yemen and related arms sales to Saudi Arabia, making good on a campaign promise. But relations in the region are complicated, at best. Miami Law international and comparative constitutional law expert Pablo Rueda-Saiz explains the moves. Recorded on March 1, 2021.
S6 E8 Amazon Won't Deliver Unionization No other company in the world ramped up as exponentially as Amazon in the face of the pandemic, adding more than 400,000 workers globally between January and October 2020. With the explosive growth came a wave of efforts to organize by employees. Labor expert and former New York Attorney General Section Chief Andrew Elmore clocks in to unpack the union box. Recorded on March 8, 2021.
S6 E7 The State of the Woke Nation Tragically, 2020 saw another year of killings of Black people by police and wannabes, including the murders of 25-year-old Ahmaud Arbery in Georgia, father of five George Floyd in Minneapolis, and 26-year-old Breonna Taylor in Louisville, Kentucky. The deaths prompted nationwide outrage and a national conversation about the crisis in our criminal justice system. Donald Jones, author of three books on race, equity, and social disadvantage, takes a big look. Recorded on March 1, 2021.
S6 E6 The Filibuster Back in Play Democrats want to ax the filibuster to max accomplishments in the Biden era; Republicans need to save it to block the new administration's agenda. Constitutional expert Charlton Copeland brings us Filibuster 101. Recorded on February 22, 2021.
S6 E5 Turning the Wheels of Justice Reform In the new administration's opening days, President Biden took his first big swing at criminal justice reform with an executive order aimed at ending private prison contracts. Innocence Clinic Director Craig Trocino takes a comprehensive look at the prospects. Recorded February 18, 2021.
S6 E4 The Power to Impeach and Convict Based on a single charge of incitement of insurrection against the U.S. Government and lawless action at the Capitol, the historic second impeachment trial of former President Donald Trump is underway. Constitutional scholar Caroline Mala Corbin leads us through the maelstrom. Recorded on February 11, 2021.
S6 E3 The Financial Traders of Reddit Retail traders took on Wall Street, kneecapping behemoth hedge funds, driving up the value of several low-performing stocks. International tax expert and longtime market watcher Stanley Langbein reads the ticker. Recorded on February 4, 2021.
S6 E2 Parler Can't Catch a Break Amazon's hosting server kicked Parler off following the January 6 attack on the Capitol. Parler suffered another setback with it failed to convince a federal judge to force Amazon to reinstate the site. Antitrust expert John Mark Newman untangles the arguments. Recorded January 29, 2021.
S6 E1 The Market Reforms Campaign Finance Fallout from the January 6 attack on the Capitol reverberated throughout the United States, including swift reaction from corporate America in the form of political contributions. Frances Hill, Miami Law's campaign finance reform expert, walks us through the morass. Recorded on January 21, 2021.
Listen to the Miami Law Explainer on most podcasting platforms, including SoundCloud, iTunes, Spotify, and Stitcher.