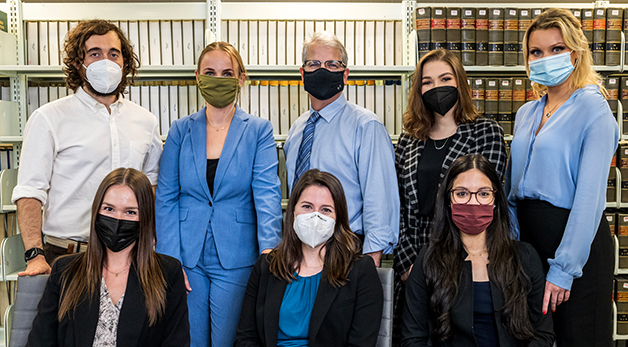 Back row L to R: David Petrantoni, Emma McEvoy, Me, Jillian Kushner, Asheley Meyer; Front row L to R: Lauren Palen, Tori Simkovic, Luciana Jhon Urrunaga
(Photo courtesey of Good Miami)
60-year-old Palm Springs native Lawrence K. Johnson Jr. was convicted for the murder of Anna Mae Kiger, a 75-year-old Air Force veteran, fourteen years after her death. For the past four years, law students with Miami Law's Innocence Clinic have been parsing through Johnson's case, casting serious doubt about his guilt.
Clinic director Craig Trocino says the forensic evidence raises questions about Johnson's guilt. "It's a horrible crime, but we have serious doubt that they got the right guy."
Students working on Johnson's case are convinced that Johnson is the victim of the "CSI effect" – causing jurors to believe even the most unconvincing of DNA evidence – and the unregulated landscape of private DNA labs.
A private laboratory tested the small quantities of DNA evidence found at the crime scene to cut costs. These private labs are often unregulated and frequently use dubious testing methods.
"Testing minuscule traces of DNA evidence is like squeezing water out of a stone," says the DNA expert collaborating with the Innocence Clinic.
Many of the testing methods used in Johnson's case have since been abandoned. Besides unregulated testing practices, the jury that convicted Johnson was also misled about the questionable DNA results. Although the results did not exclude Johnson, which is not uncommon, the jury was led to believe that the results matched Johnson. Not being able to exclude someone and matching someone are very different realities that are often not explained correctly to juries of laypersons. Additionally, it wasn't unusual that Johnson's DNA was found at Kiger's house, as he worked for her as a handyman. The West Palm Beach Sheriff's Department also misused a Justice Department cold-case grant to have Johnson's DNA tested by the private lab.
2L's Luciana Jhon, Ashley Meyer, and Emma McEvoy are currently petitioning the Court to have Johnson's DNA results retested by a reputable lab using scientifically sound testing methods. "We are not going to let our client languish in prison because of unsound testing methods and unregulated labs," says McEvoy.