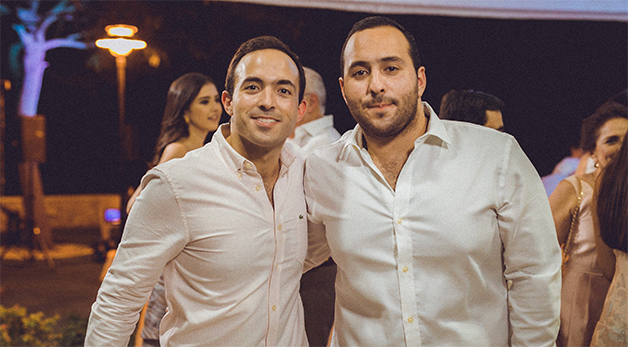 Eduardo and Camilo Fernandez
Brothers Eduardo and Camilo Fernandez are continuing their law studies at Miami Law. Both hold law degrees in their native Colombia, albeit five years apart; are currently in the White & Case International Arbitration LL.M program; and are interested in pursuing the J.D./LL.M. joint degrees.
Older brother Eduardo already holds LL.M. degrees from Florida International University in general studies and Northwestern Pritzker School of Law in taxation and has been awarded the International Arbitration Institute Scholarship. He is a 2015 law graduate of the Universidad de los Andes.
He is currently the U.S. and International tax director at the Miami boutique firm BP Global Tax Advisory, LLC. He also leads the firm's U.S. corporate legal services practice, which includes startup law. Formerly, he served as a consultant in U.S. and Latin American Legal Affairs and Policy at a Latin American startup and is a board member of several startups in Colombia. He was also an acting senior associate in Chicago for Donahue & Partners LLP, an EY Law Global Network member, and affiliated with EY Tax.
"Miami Law has opened a world of opportunities," says Eduardo. "Since Miami is almost a Latin American city in the United States, it is the Makkah of international trade, arbitration, and business relations."
Having an LL.M. in arbitration from the University of Miami, combined with his specialized knowledge in tax and business law, is a win since he can rapidly grasp concepts, issues, and solutions in an environment that requires a diversity of perspectives. Moreover, the possibility of also taking classes in the university's tax program is something that Eduardo has valued.
"Miami's unique location and unique tax practitioners will provide me with more specialized knowledge in order to expand my international tax practice and become an even more qualified practitioner," he says.
Recent law graduate Camilo landed a 2021 international arbitration LL.M. practicum summer placement with White & Case and is the holder of an exclusive scholarship collaboration between Miami Law and several Colombian law schools, including his alma mater Universidad del Norte in Barranquilla.
Camilo took to international arbitration from his second semester at Universidad del Norte and quickly joined the university's international arbitration team. As a team member for over two years, he wrote his thesis on the innovative subject of third-party funding. He drafted a legislative proposal for Colombia to incorporate the legal funding method in arbitration as an accepted practice, drawing a comparative model with the legislation in effect in Singapore, Hong Kong, and the United Kingdom.
Camilo hopes to deepen his knowledge of arbitration and the law while expanding his network to include practitioners around the world.
"Miami Law was simply too good an opportunity to pass up, as my professors are quite literally, the Who's Who in Arbitration and may guide me to working for them and their partners in the future as an international lawyer," he said. He believes his English, Spanish, and French knowledge should facilitate his growth in the culturally diverse setting of international commercial and investment arbitration.
Camilo's current ambition is to bring back to Miami the Foreign Direct Investment Moot's Trophy from Korea, capitalizing on his role in Miami Law's International Moot Court Program. His longer aim is to aspire to and embody the qualities of an Iron Arrow, not just during his time at Miami Law, but throughout his life, both as a practitioner of the law and a valuable member of society.
Read more about Miami Law's International Arbitration LL.M. Program