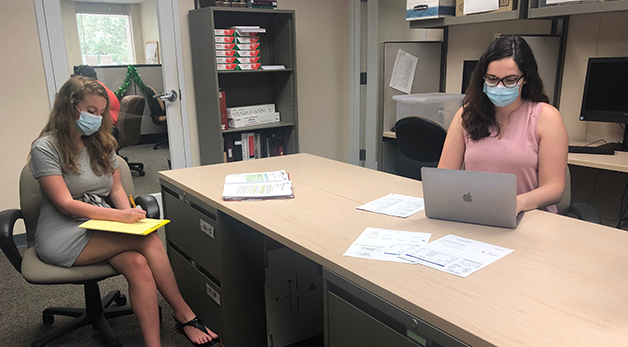 Children and Youth Law Clinic students
A 19-year-old Guatemalan immigrant, "Gustavo," was grappling with his place in the world as a crossover youth (those involved in the criminal justice and foster care systems). Gustavo's experience in the foster care, criminal justice, and immigration systems was stressful. Children and Youth Law Clinic (CYLC) interns Hayley Goodman and Michelle Stein's student attorney/client relationship with Gustavo began in August 2020, when they helped him obtain a laptop for his schooling as a participant in the Extended Foster Care Program. Throughout the school year, the representation became more holistic, big-picture, and meaningful.
The interns and Gustavo's relationship, conducted primarily over a group text with Goodman texting Gustavo in broken Spanish, did not limit their advocacy. Gustavo is enrolled in Extended Foster Care and eligible for Keys to Independence, the Florida program that helps foster youth obtain driver's education and the first year's car insurance for free, with all costs associated with obtaining a driver's license waived. Though surprisingly tricky, the interns helped him with the complicated and not user-friendly enrollment process so he could enter the Spanish driver's ed course.
As the interns built rapport with Gustavo, they learned more about his past criminal case and that he had nearly $1,000 in fines, fees, and court costs that he had no ability to pay. Florida's laws regarding such costs are especially punitive, imposing a 40% increase on the unpaid debt in the collections process. Moreover, with these fees a person's driver's license would be suspended, and Gustavo would no longer be eligible for the Keys to Independence program.
The interns wanted to help Gustavo, but the CYLC did not specialize in criminal law. Fortunately, Miami Law is a public-interest-oriented institution, and the interns were able to reach out to Miami Law's HOPE Public Interest Resource Center office for advice. HOPE referred them to the Fines and Fees Justice Center which specializes in policy work regarding criminal fines and fees.
After meeting with the FFJC's Florida State Director Ashley Thomas, the interns filed for a motion to waive court costs. They also worked with Gustavo's immigration attorney who prepared a letter to attach explaining why Gustavo could not pay. This motion will be submitted to the Clerk of Courts soon, after which there will be a hearing. 
Coincidentally, Thomas' organization, the Juvenile Law Center, and the Children's Campaign, as well as a sponsor in the Florida Legislature, were about to file a bill called The Debt-Free Justice for Children Act. The goal would be to aim to stop the imposition of fines, fees, and court costs for all youth under 18 and crossover youth enrolled in Extended Foster Care between ages 18-21. The clinic drafted and submitted a letter of support in favor of the bill, incorporating client stories like Gustavo's.
"Working with Gustavo made me see the impact of my work in the clinic and understand the privilege of being a (future) attorney," said Goodman. "When I first started, I was unsure as to how I was going to build rapport with clients, particularly in this new virtual world and in my second language.
"Over the school year, I got to know him well and grew to care about him as a human being," she said. "When I found out that his immigration application was approved, I honestly teared up on the Bass Bricks. Working with clients like Gustavo, I know that I want to be an attorney who works directly with clients every day but also recognize that it is crucial to engage in the deeper policy issues that impact my clients."
Goodman spent several days reading through the proposed bill and compiling information about other state programs intended to foster youth with independent living skills. Her goal was to illustrate how the current law imposing financial burdens on foster youth runs contrary to the state's goals of promoting economic independence.
"This experience is incredibly valuable for a prospective clinic student because of the research and drafting practice, as well as the opportunity to advocate for a matter of public importance," said Stein. "While the Debt- Free Justice for Children Act is still under consideration in the Florida legislature, it is rewarding to know that a letter of support drafted by clinic interns — whose clients are directly impacted by criminal fines, fees, and costs — could influence lawmakers to reform the law.
"Prospective clinic students should know that if they join the Children & Youth Law Clinic, they will be working with real humans with real legal problems," Stein said. "Whether you are advocating for these clients in the courtroom or in the legislature, the practical experience is invaluable and will help prepare you for advocacy as a licensed attorney."
The Children & Youth Law Clinic is an in-house, live-client clinic that represents children in foster care and former foster youth in dependency, health care, mental health, disability, independent living, education, immigration, and other general civil legal matters, ensuring that they have a voice in court proceedings.
"It is always gratifying for me, as a clinical professor and supervisor of legal interns, to witness the professional growth of our talented students during their year in the CYLC," said clinic co-director Bernard Perlmutter. "This is particularly true for Hayley and Michelle. Their attorney-client relationship with Gustavo prompted them to investigate different areas of law relevant to his status in the Extended Foster Care program and his need for a driver's license. In turn, it led them to pursue remedies to waive fines, costs, and fees associated with a prior criminal case. I was especially impressed by their collaboration with his immigration lawyer and the coalition of advocates seeking to pass the Debt-Free Justice for Children Act. These experiences are the very essence of what clinical legal education offers our students each year."
Read more about Miami Law's Children & Youth Law Clinic
Read about Miami Law's Social Justice and Public Interest programs