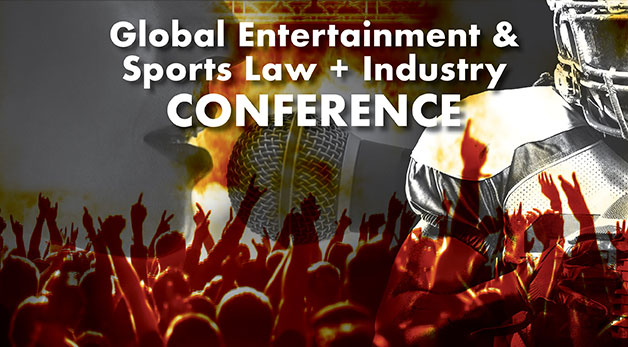 The 2021 Global Entertainment & Sports Law + Industry Virtual Conference will feature discussions including the future of name, image, and likeness in the NCAA; COVID-19 and the NBA bubble; the eSports explosion; mental health and sports; the proliferation of podcasts; the current state of the music industry in Latin America; technology in the entertainment industry; a virtual happy hour with retired NFL Hall of Famer and Co-owner of V-One Vodka, Ty Law; and a panel featuring in-house counsel from all four professional football teams in the NFC East conference.
"We are once again proud to host a forum for dialogue on topical issues impacting the entertainment, arts and sports industries," said Greg Levy, associate dean and director of the Entertainment, Arts and Sports Law LL.M. "Each year this conference has grown, and we are excited to pull together one of our most dynamic lineups to date that will address business, legal and social issues."
The April 8 and 9 conference will feature speakers Gwen Marcus, former executive vice president and general counsel at Showtime Networks Inc.; Horacio Gutierrez, head of global affairs and chief legal officer at Spotify; Brandon Marshall, former NFL player, co-founder of PROJECT 375, and founder & CEO of House of Athlete; Kim Miale, general counsel and NFL agent at Roc Nation Sports; DeMaurice Smith, executive director of the NFL PA; and Jackie MacMullen, an award-winning sportswriter at ESPN.
The annual event is hosted by the University of Miami School of Law's Entertainment and Sports Law Society and LL.M. in Entertainment, Arts and Sports Law. The society hosted its first conference in 1997. Since then, it has grown into a full-scale event where law students and professionals participate in a forum to discuss current legal issues in sports, entertainment, intellectual property, the arts, and the media. Some of the most well-known local and national attorneys, faculty, agents, legal advisers, athletes, and entertainers serve as panelists, lead Q-and-A sessions, and foster academic debate.
The Thursday, April 8, and Friday, April 9 event is from 9:00 a.m. until 5:30 p.m. EST, is open to the public and free with registration.
10+ CLE credits are pending in The Florida Bar, including ethics and technology, and visit www.law.miami.edu/esls. For specific conference information, contact events@law.miami.edu. #UMESLS
Speakers, topics, and time are subject to change without notice.