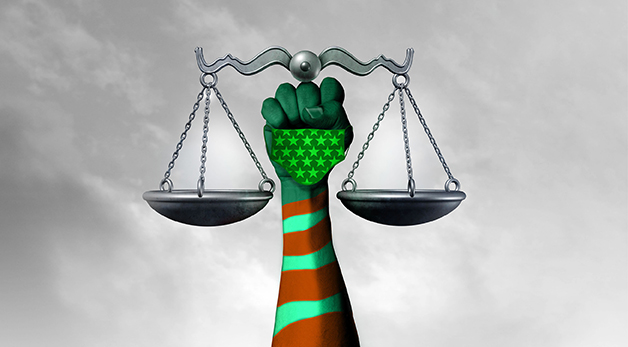 Discussing civil rights challenges caused by the COVID-19 pandemic, "Defending and Promoting Civil Rights in a Time of Coronavirus" is a virtual half-day symposium on September 17, hosted by Miami Law, in partnership with the Civil Rights Section of the Association of American Law Schools and the University of Miami Race and Social Justice Law Review. 
"This conference arises from the efforts of the Working Group on Civil Rights in a Time of Coronavirus, which I established as chair of the civil rights section of the AALS just after the outbreak of COVID-19 was declared a pandemic," said Professor Elizabeth M. Iglesias, chair of the constitutional law section of the Hispanic National Bar Association.
"I am delighted that these efforts have produced a nationwide line-up of civil rights lawyers, professors, and activists deeply committed to defending and promoting civil rights as human rights, and the enthusiastic co-sponsorship of the Hispanic National Bar Association, the American Constitution Society, Blacks in the American Society of International Law (BASIL), and the University of Miami's Human Rights Clinic, Health Law Association, Society of Bar and Gavel, and the Cuban American Bar Association," said Iglesias. "It is going to be a great event!"
Gerald Torres, professor of environmental justice at the Yale School of the Environment, professor of law at Yale Law School, and past-president of the Association of American Law Schools, will deliver the keynote address. As a pioneer in environmental law, Torres has spent his career examining the intrinsic connections between the environment, agricultural and food systems, and social justice.
Joining Torres, Miami Law's Anthony E. Varona, dean and M. Minnette Massey Professor of Law, and Iglesias will deliver opening remarks.
Four panels of nationally recognized experts will focus and explore a wide range of topics, including civil rights issues exacerbated by the pandemic and the role of international legal institutions in protecting human rights against discrimination and unequal treatment in employment, housing, education, and access to justice.
"I thank Professor Iglesias for her leadership and initiative in organizing this very important and timely symposium," said Varona. "The persistent pandemic has aggravated and further exposed longstanding and pervasive civil and human rights challenges that law should and must address."