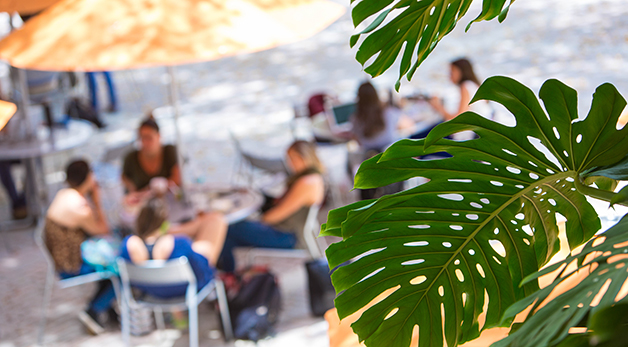 Thanks to Miami's strategic location as the gateway between the United States, Latin America, Europe, and Asia, the School of Law attracts high-quality international students to its LL.M. Programs. This year is no exception.
"Despite all the difficulties created by the pandemic, Miami Law's LLM programs for foreign-trained students successfully started in the Fall," said Carmen Perez-LLorca, assistant dean for international and graduate programs. "We are delighted that we were able to welcome a wonderful class of international students to our campus this Fall, and we look forward to welcoming those who were not able to make it in the Spring. Our international students have now completed the first half of the semester – through a combination of online, blended and residential options- and have proved to be brave, flexible and resilient."
Meet six of our students currently pursuing an LL.M. degree at Miami Law:
Elvira Vergara is pursuing her LL.M. in International Law. The Colombian lawyer with LL.B. and LL.M. degrees from Universidad Externado and Pontificia Universidad Javeriana – two top Colombian law schools – has more than 10 years of experience in in-house practice of corporate, commercial, and financial law, as well as intellectual property, entertainment, and media.
"The U.S. & Transnational Law LL.M. gives me the unique opportunity to learn about the U.S. legal system to complement my previous legal studies and help me achieve my career goals," said Vergara. "The knowledge I have gained, in a multicultural and intellectually challenging environment, has had immediate practical applications at my job in the entertainment industry."
She is currently the Latin America and U.S. Hispanic legal counsel of Vice Media Entertainment, where she is responsible for the corporate, employment, commercial, advertisement, media, and entertainment legal work for Latin America and Spain.
Miami Law's international law program draws attorneys from all over the world to continue the study of law in a context that emphasizes American common law and its impact in the global economy. While technically a specialization in the International Law LL.M., the program permits unusual flexibility and allows students to choose courses in their area of interest from the general law school curriculum and structure their studies according to their professional goals.
Brazilian lawyer Martha Hager, who got her first law degree from the Pontifícia Universidade Católica de São Paulo and a Master of Laws from Southern Methodist University School of Law, is currently pursuing a joint J.D./LL.M. in International Law, which offers the opportunity to earn both degrees at once, saving both time and tuition expense. Hager has extensive professional experience in the areas of international law and internal administrative law in the United Nations, the World Bank Group, and the International Monetary Fund.
"Facing the challenges of keeping up with current trends of the global economy, as an experienced lawyer licensed in Brazil and New York, I needed an advanced professional program that would expand my knowledge in transnational law and develop my skills to qualify for the Florida Bar exam," said Hager. "The University of Miami School of Law provides first-rate faculty and specialized advisors, who have been extremely supportive and resourceful for the tools I need to maximize my professional opportunities."
Hager has worked more than a decade in Brazil as a criminal prosecutor handling more than 10,000 cases from investigation to final appeals.
A South African native, Nicholas Flowers is working on his LL.M. degree in Entertainment, Arts and Sports Law. He is currently an executive consultant at Gridiron South Africa. He works identifying and giving presentations to stakeholders on the potential role of American football in South Africa as a tool for social change. He was previously an attorney at Webber Wentzel, where he worked in the dispute resolution and financial regulatory department. Flowers studied at the University of Witwatersrand and received a Bachelor of Commerce, Masters of Commerce, and a Bachelor of Law. He is a member of the International Federation of American Football (Africa Region).
"From application to the first class of the semester, my experience with Miami Law has been characterized by professionalism and efficiency," said Flowers. "The unique challenges facing our world were seamlessly navigated in ensuring I was adequately prepared for the Fall semester, and beyond. The EASL program is a unique one-of-its-kind LL.M. offering, which blends both domestic and international students with renowned experts in this exciting area of law. Quite simply, the EASL program remains unmatched."
Available only at Miami Law, and taught by prominent faculty and practicing attorneys, the EASL program is nationally recognized: the LL.M. Guide ranked the EASL program in the 2020 Top 10 in Entertainment/Media Law and in the 2019 Top 10 in Entertainment/Media Law and #2 most popular such Graduate Program in the U.S.
Marie Pascale Albertini has worked as a paralegal at L&A Law Firm in Paris, France. As a paralegal, she focused on taxation, procedure, and business law and drafted corporate agreements for cross-border institutions. The native of Haute-Corse, France, is currently pursuing a joint J.D./LL.M. degree in Entertainment, Arts and Sports Law. She received her associates degree, bachelors in law and masters in law at the University of Corsica in France. She completed her masters in law at the Head School of Law in Paris, France.
"Studying at Miami Law is an extremely enriching experience in every way and especially as an international student," said Albertini. "Being in the EASL program is a privilege because it gives me the opportunity to take courses that I am the most interested in, and that form the basis of my future legal career. There is this particular energy and level of distinction that makes it so special."
International Arbitration LL.M. degree with the three-semester Intensive Legal English student Diana Fisher obtained her law degree from Libre University in Bogota, Colombia, in 2004, followed by specializations in international law pertaining to armed conflicts and administrative law. Prior to relocating to the U.S., the Colombian native worked as an attorney for the division of contracts and mining of the Colombian Institute of Geology and Mining, and as administrative lawyer for the Colombian Marines Corps, which is part of the Colombian Navy, in the rank of a lieutenant. She also has experience working as a mediator in the U.S.
"I chose the University of Miami because it is one of the most prestigious institutions for continuing my education as a lawyer," said Fisher. "The LL.M. program in international arbitration offered by this university is unique and interesting for foreign lawyers coming to the United States to understand the legal system that is completely different from our countries. I have great expectations for this program because I know it will help me with the necessary tools to practice law in this country."
The Intensive Legal English + LL.M. is a three-semester program designed for qualified law students who need to improve their English proficiency before they immerse themselves into an LL.M. program of study.
Enric Ripoll Gonzalez is pursuing the International Arbitration LL.M. degree at Miami Law. The Spaniard obtained his law degree from the University of Zaragoza in 2005. He also holds post-graduate degrees in construction law and sports management. He has worked as a senior lawyer with the law firm Ruiz-Huerta & Crespo, providing legal advice to clubs, intermediaries, athletes, and associations in contractual matters. He also has been ranked by Who's Who Legal as among the world's leading sports and entertainment lawyers.
"The International Arbitration LL.M. is exactly what I was looking for," said Gonzalez. "I have been practicing law for 15 years, and in the last eight years, I focused on international arbitration related to sports. When I decided to study in the U.S., I was looking for a program that could give me the opportunity to take the next step in the arbitration world. Miami Law's International Arbitration LL.M. had all the ingredients to do it."
The LL.M. in International Arbitration provides a unique individualized educational curriculum and opportunity for a small group of top-quality students from a range of countries wishing to acquire an in-depth grounding in the field of international arbitration as a platform for a successful career. Miami Law has created a unique infrastructure for students to network with international arbitration practitioners in Miami and beyond.
Read more about Miami Law's LL.M. Programs
Top 10 Reasons International Students Study at Miami Law