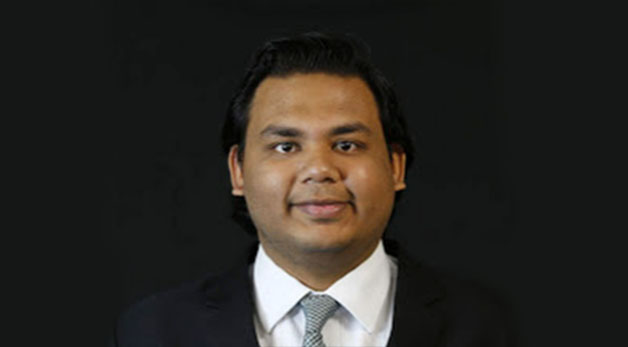 Harisankar Mahapatra, LL.M. '20
Miami Law International Arbitration LL.M. graduate, Harisankar Mahapatra, LL.M. '20, who hails from India, recently was awarded an Honorable Mention in the prestigious Nappert Prize in International Arbitration writing competition for his article "The Future of Investment Dispute Settlement in the Post-Achmea Era."
The Nappert Prize in International Arbitration is an essay contest which invites participants to submit unpublished papers on commercial arbitration or investment arbitration. The prestigious award by McGill University is named after Sophie Nappert, a noted arbitrator in independent practice based in London. The writing competition is open to students, junior scholars and junior practitioners from around the world. This year's jury consisted of nine distinguished international arbitration practitioners, including Miami-based Diego B. Gosis, parnter at GST LLP and Meg Kinnear, secretary-general of International Centre for Settlement of Investment Disputes in Washington, D.C., who teaches a course on "ICSID Practice & Procedure" in Miami Law's International Arbitration LL.M.
Mahapatra first learned about the Nappert Prize from White & Case International Arbitration LL.M. Director, Sandra Friedrich, who connects students and alumni of the program with opportunities for internships, jobs, fellowships and writing competitions around the world. It was also through Professor Friedrich's course on "Transnational Litigation and International Arbitration with a European Nexus" that Mahapatra became inspired to participate in the essay competition. In his paper, Mahapatra discusses "the current crisis in the European Union concerning the settlement of investment arbitration disputes and the proposed development of a Multilateral Investment Court in place of ad hoc arbitration tribunals." Throughout the essay, Mahapatra examines the Achmea case, the impact of the decision on multilateral treaties (such as the Energy Charter Treaty) as well as the benefits and shortcomings of the proposed Multilateral Investment Court.
Before beginning studies at Miami Law, Mahapatra graduated from the National Law University, Delhi with an LL.B. (honors) in 2017. "I joined law school because of my ambition to become a lawyer and running for public office in India," Mahapatra explained. "I have always been captivated by the majesty of the law." Upon graduating from law school, Mahapatra worked at Pathak and Associates Law Offices in New Delhi, where he dealt with arbitration cases and investor-state dispute settlement in particular.
Mahapatra then joined the Miami Law International Arbitration LL.M. community during the Fall semester of 2019. "I had a great learning experience in my LL.M. program" through "interacting with professors and students from different cultural and national backgrounds," Mahapatra remembers. He also notes that practical courses in Forensics of Advocacy in International Arbitration taught by Daniel E. González, partner and global head of international arbitration practice at Hogan Lovells, and Luke Sobota, founding partner at Three Crowns, where students "make oral and written submissions based on real-life disputes," helped him "to learn and nurture different skills pertaining to the handling of arbitration disputes."
Mahapatra further mentions how courses on international investment law and arbitration and on the New York Convention taught by renowned professors George Bermann, of Columbia Law School, Carolyn Lamm, partner at White & Case; and distinguished faculty chair at the White & Case International Arbitration LL.M. Program, and Albert Jan van den Berg, partner at Hanotiau & van den Berg, provided "an opportunity to question and understand the strategies adopted by these stalwarts from their own experiences in handling matters, which are now landmark cases in arbitration disputes."
Moreover, the International Arbitration LL.M. program allows students the flexibility to enroll in courses from Miami Law's vast curriculum of 300+ lectures, seminars, workshops and clinics per year beyond the field of international arbitration. Mahapatra was able to pursue other interests in law, such as taking courses on "Sexuality and Gender Identity and First Amendment Fundamentalism," which inspired him to learn. Receiving the accolade of the "CALI Excellence of the Future Award" for earning the highest grade in Professor Friedrich's course on "Drafting Complex Arbitration Clauses," also helped instill in him "tremendous confidence in [his] abilities as a lawyer."
"I believe many such experiences and memories during the program have helped me broaden my understanding of the law and develop my critical thinking abilities," Mahapatra concludes, "thus shaping me into a more holistic lawyer."
"We are extremely proud of Hari's accomplishments during, and since graduating from, our LL.M. Program," says Friedrich. "His grit and determination are commendable, and his intellectual curiosity propelled him in his studies and legal training. It was a pleasure having Hari in the program and in the classroom."
Currently, Mahapatra is planning to join a law firm in New Delhi that would provide "the perfect blend of representing both commercial clients and litigants fighting civil liberty issues."
Read more about the International Arbitration LL.M. at Miami Law