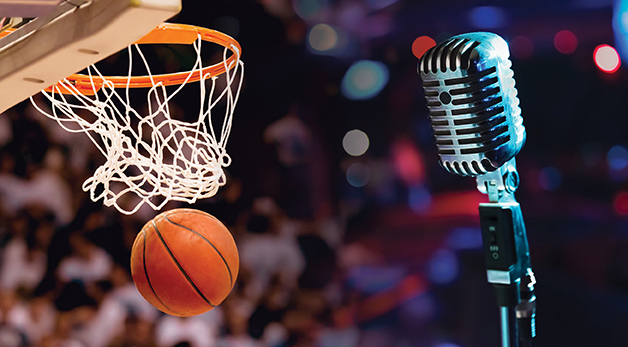 A star-studded lineup from lawyers and executives in sports and entertainment law join the Entertainment, Arts and Sports Law Wednesday guest speaker series this semester. The weekly one-hour talks, for current EASL LL.M. and JD/LL.M. students, draw legal professionals from across the industries, from the NFL and NBA to Ultra Music Festival and the BBC providing insight and opportunities from their personal journeys.
The weekly speaker series is only one part of the extra curricula requirements, which also include substantive workshops with prominent attorneys and professors conducting interactive sessions on topics of high interest – such as international sports arbitration, social media, and the law, and sneaker law – in the marketplace.
"Since the program was launched, we placed an emphasis on connecting students to the industry," said Greg Levy, director the EASL LL.M. "The students will hear how these lawyers and executives achieved success and gain insights on industry trends to help shape their path in the program. We have been able to leverage the virtual space to assemble one of our strongest and most diverse lineups to date."
The award-winning graduate program is available only at Miami Law and is taught by prominent faculty and practicing attorneys. Students studying in the combined graduate degree focus on areas of law that, in today's world, are expanding, converging, and, at times, intersecting. Hands-on, practical learning teaches skills of high value which can provide the tipping point for attorneys competing for jobs in very competitive areas.
The LL.M. Guide ranked Miami Law's Graduate Program in the 2020 Top 10 in Entertainment/Media Law and in the 2019 Top 10 in Entertainment/Media Law and #2 most popular such Graduate Program in the U.S.
For Sports Law, LL.M. Guide ranked Miami Law's Sports Law track in the Top 10 in 2020 and #1 most popular overall for the sports law track.
LL.M. Guide is the premier website with information on worldwide LL.M. programs with a directory of over 700 law schools. It bases its top-10 rankings on various factors including concentrations, research capacity, existing rankings, international balance, and location.
In 2019 and in 2017 Billboard Magazine listed Miami Law as a leading school in the nation for music law programs; alumni Horacio Gutierrez of Spotify, Leslie José Zigel of Greenspoon Marder, and Simran Singh of Singh, Singh & Trauben made the list of top music industry lawyers.
Speaker lineup:
Evan Green, J.D./LL.M. '17, director of arbitration in the baseball division at Creative Arts Agency
Aric Kurzman, J.D. '02, general counsel for the Adrienne Arsht Center for the Performing Art
Michelle Leftwich, vice president for salary cap administration for the Atlanta Hawks
Gustavo Lopez, COO at Ole Communications, former vice president at AMC distribution for Latin American, and senior director for legal affairs for HBO
Lauren Tribble Mehta, associate general counsel at United Soccer Leagues LLC
Kim Miale, NFL agent & general counsel, Roc Nation Sports Since May 2013, Miale has been an agent with Roc Nation Sports in New York City, a division of the entertainment agency founded by Jay-Z. She represents six NFL clients, including Barkley and Juju Smith-Schuster of the Pittsburgh Steelers.
Dan Rube joined the NBA in 1995 and currently serves as the league's executive vice president and deputy general counsel
Toam Rubinstein, J.D. '13, associate in the entertainment and media group at Reed Smith
Cristina Scarano, J.D. '06, vice president of business and legal affairs at BBC Studios
Karyn Smith-Forge, J.D. '00, senior vice president of production at Greg Berlanti Productions
Mike Tannenbaum, an ESPN analyst and former executive vice president of football operations for the Miami Dolphins, and general manager for the New York Jets
Sandy York, founder of the crisis and reputation management support firm York and general counsel for Ultra Music Festival
"Our weekly speaker series is one of the many features that make the University of Miami EASL program unique," said Levy. "It aligns with our goals of networking, practical skills training, and developing a broad understanding of what it means to be a lawyer in these industries."
More on Entertainment and Sports Law at Miami Law