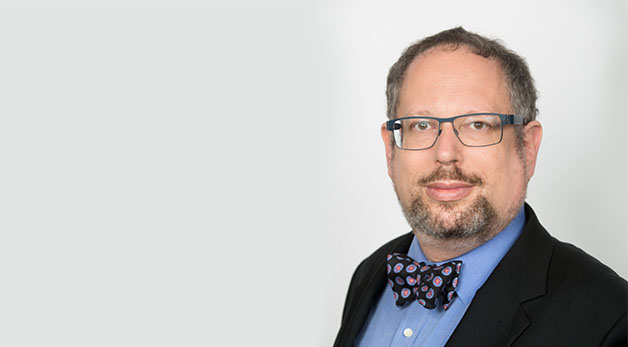 Professor A. Michael Froomkin
The University of Miami Faculty Senate named Professor A. Michael Froomkin the 2020 Distinguished Faculty Scholar Awardee. The Laurie Silvers & Mitchell Rubinstein Distinguished Professor of Law, and a member of the University of Miami Center for Computational Science, received the award on Monday, September 21, at 5:00 p.m.
The Distinguished Faculty Scholar Award recognizes either a single outstanding scholarly achievement or a lifetime of distinguished accomplishment in any area of research or creative activity.
"I am delighted that the faculty senate chose to grant Michael Froomkin its Distinguished Scholar Award this year," said Dean and M. Minnette Massey Professor of Law Anthony E. Varona. "Michael is a force in his substantive fields, a mentor to junior scholars, and a valued member of the law school faculty. Like the other nominees for this award, he does the university proud!"
Having joined the Miami Law faculty in 1992, Froomkin is an affiliated fellow of the Yale Information Society Project since 2008.
With a J.D. from Yale Law School, M.Phil. in history from Cambridge University, and B.A. in economics and history, summa cum laude, from Yale College, Froomkin is recognized as one of the world's leading legal scholars in internet governance, cryptography, robotics, artificial intelligence/machine learning, e-commerce, and privacy. He was honored with the World Technology Award for Law in 2017.
"It was an honor for me, as a faculty member, to nominate my impressive colleague Michael Froomkin for this highly-competitive award," said Lili Levi, vice dean for intellectual life and Dean's Distinguished Scholar. "Bravo Michael! Hooray Faculty Senate!"
A scholarly visionary at the intersection of technology and law, Froomkin has explored his interests in an impressive body of work, including over 80 articles in prestigious law reviews including Yale, Harvard, Stanford, Penn, and Berkeley. His co-edited book of essays on robot law and artificial intelligence is path-breaking. As editor of the innovative digital journal Jotwell (the whimsically titled "Journal of Things We Like (Lots)"), he created a venue for sharing new scholarship. He is currently contributing significantly to discussing the transformational impacts of the turn to online legal education.
Widely regarded as a foundational thinker in internet law and "robot law," Froomkin is a frequent participant in conferences at top law schools in the United States and abroad. He is also a public intellectual, commentator, internet transparency activist, and critical advisory board member in his fields. As a blogger on Discourse.net and co-convenor of the groundbreaking interdisciplinary We Robot conference, Froomkin has neatly managed to translate law for technologists and technology for lawyers, law professors, and policy-makers.
"I am deeply grateful to Dean Levi for nominating me and to the Faculty Senate for selecting me for this honor," Froomkin said. "I owe it all to my wife (and Law School colleague) Caroline Bradley who told me almost 30 years ago to either stop spending so much time playing with the internet, or else make my technology hobby my job."
Regarding the ceremony,  Laurie Silvers, J.D. '77 commented, "I am so thrilled that Michael was honored for his brilliant work. I hope he is able to continue to do his groundbreaking work. He is truly a treasure at the law school and the entire university."