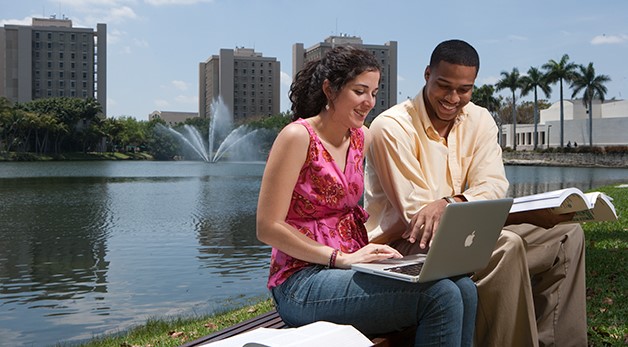 Before COVID-19, applicants to law schools focused on the standard application steps – gathering transcripts and recommendations, taking the LSAT, turning extracurricular activities and/or work and life experiences into a standout personal essay, and of course, scheduling visits to law schools of interest.
Now, with no campus tours in the age of coronavirus, how do you "check out" which law school is best for you?
Even with the hurdles the pandemic presents, there are still many ways for you to get your finger on the pulse of which law school is your best match.
Try these tactics:
1) Sit in on a Webinar
You can attend an online information session at many law schools to learn about application requirements, their review process, and what the school has to offer. These sessions often range from general overviews to specific workshops focused on a single topic. For example, Miami Law has a range of upcoming, and past recorded webinars.
2) Take a Virtual Class
Did you know that prospective students are often able to observe live law school classes? While these virtual visits usually do not permit prospective students to enable their audio or webcams and participate, you do get a glimpse into a law class.
3) Do an Interactive Campus Tour
Virtual tours had grown in popularity even before the pandemic set in, but now they are more essential than ever. Some are broken into clips of different parts of the school, while others aim to help students feel as if they are walking around campuses without leaving home. University of Miami has one such tour.
4) Attend an Online LSAC Forum
By attending an LSAC Digital Law School Forum, you'll be able to safely connect one-to-one with law school representatives from across the country and get important information and answers to any questions you may have.
5) Schedule 1:1 Advising
Many schools offer the option to schedule phone or online meetings with admissions counselors. Take advantage! At Miami Law applicants for fall 2021 entry can make a 20-minute Zoom appointment with an admissions counselor.
6) Go to a Virtual Open House
Open Houses provide engagement opportunities to learn more about a law school and can feature current students, alumni, faculty and other members of the school community. To get a sense, check out a past Miami Law open house from September 2020.
7) Frequent Social / News Pages
You can learn a lot about a school just by reading the news stories on their homepage, looking at news archives, or by following their Instagram, Twitter, or Facebook channels.
8) Take a Virtual City Tour
When you choose a law school, you often relocate to a new city. You can visit city tourism or convention and visitors' bureau websites for great virtual city tours. Like most cities, Greater Miami has a great site on which you can explore the Coral Gables neighborhood where UM resides, or take a tour of greater Miami. You can also check out neighborhoods to live in!
9) Ask to Attend an Online Conference Offered at a Law School
Law schools host all kinds of events, symposia, and conferences. Did you know you can ask an admissions officer if you could attend one? For example, Miami Law will be hosting a Clinic Speaker Series on Racial and Social Justice in fall 2020. It will give you insight into the legal profession.
10) Be a Guest at a Moot Court Competition
"Moot Court" gives students the opportunity to present appellate-type arguments in front of a panel of academics. Miami Law participates in moot competitions like this in the U.S. and overseas. Reach out to admissions and ask if you can be a guest at an upcoming moot. For example, Miami Law is participating in this prestigious environmental law moot in 2021.
11) Volunteer as a Witness or Juror in a Law School Practice Trial
To learn and sharpen courtroom skills, law schools have litigation skills programs in which law students practice litigating cases – you can sign up to be a volunteer juror at Miami Law and see the litigation chops of law students first-hand!
Law school admission officers understand these are challenging times and want to help you get the best sense you can of their law school and its community. 
Remember, all in all, the core process of applying to law school remains exactly the same. The one benefit of the pandemic is you can now, in some ways, get an even up closer look into the life of a law school through one of the strategies above.