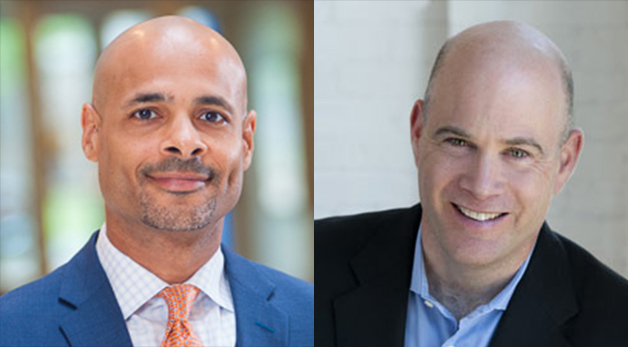 Jeremi Duru and Jim Rooney
Miami Law's virtual "The Rooney Rule, Race, and Access in Athletics: A Fireside Chat with Jim Rooney and Jeremi Duru," will host Jim Rooney and Jeremi Duru on September 30th to discuss the "Rooney Rule" in the National Football League.
In 2003, the NFL established the "Rooney Rule," so named for the Pittsburgh Steelers owner Dan Rooney's effort to ensure that minority coaches would be considered for top coaching positions.
Youngest Rooney son, Jim, writer of the best-selling A Different Way to Win, Dan Rooney's Story from the Super Bowl to the Rooney Rule, spoke to more than 50 current and former NFL commissioners and executives, officials in state departments, players and coaches about his father's unrelenting and unselfish commitment to do what's right and what's best for the league.
Jim Rooney brings that discussion exploring the impact of the Rooney Rule on the NFL and outside corporations, but also his father's role as the U.S. ambassador to Ireland and desire to find players at historically black colleges to build the Steelers' Super Bowl dynasty of the 1970s to Miami Law on September 30, 2020.
Jim Rooney and his colleague and collaborator and one of the nation's leading voices at the intersection of race, sports, and law American University Washington College of Law Professor Jeremi Duru will be the guests of the fireside chat, moderated by associate provost for diversity, equity, and inclusion within the University of Miami Office of Faculty Affairs, and associate dean for diversity, equity & community at Miami Law, Osamudia James.
"At a time when professional athletes are increasingly taking visible and very public stands in support of social justice movements, the time is perfect to revisit the structural initiatives in athletics that were intended to promote equity, and to consider how those initiatives translate to broader society," said James.
Historically, there has been a critical juncture where the sports industry has often led the way in pioneering opportunities for diverse populations. The Rooney Rule was a trailblazing initiative when it first came out, and now almost 20 years later there are some mixed results. The conversation with Jim Rooney and Duru promises to be a powerful conversation that creates the opportunity for meaningful dialogue
"I am thrilled to collaborate with Associate Provost James and bring this important conversation to Miami Law and our community," said Associate Dean Greg Levy, director of the entertainment, arts and sports law LL.M. program.
The September 30th event, from 6:00 p.m. to 7:00 p.m., is open to the public with registration. CLE 1.0 credits in ethics are pending approval from The Florida Bar.
Read more about Sports and Entertainment Law at Miami Law