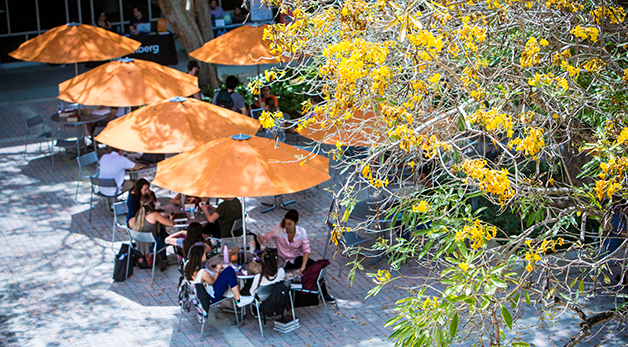 Earlier this month, Miami Law's International Arbitration LL.M. Program facilitated a Virtual Welcome Reception for students, hosted by Assouline & Berlowe, P.A., a South Florida based business litigation and transactional law firm serving clients both locally and internationally.
During the reception, students engaged in dialogue with the firm's founding partners and Miami Law alumni, Eric N. Assouline, J.D. '96, who heads the firm's Business Litigation Practice and whose dispute resolution practice also involves mediation and arbitration, and Peter E. Berlowe , J.D. '98, who leads the firm's Corporate and Finance Practice and also focuses on domestic and international litigation and arbitration. Students learned about the firm's domestic and international practice as well as Miami's legal community in general. Students also had an opportunity to ask career-related questions to better understand law practice in the U.S. for domestic and foreign-trained law graduates.
"I am very proud of being a 'Cane," Assouline said. "And thanks to my highly esteemed and respected colleague and friend Professor John Rooney, I feel very fortunate to have developed a strong relationship with Miami Law's outstanding International Arbitration LL.M. Program." Assouline goes on to say that he is "always impressed with the quality of the students this program attracts" and "looks forward to continuing to build these relationships and our continued involvement with this fantastic program."
"It is always exciting to meet the students from Miami Law's International Arbitration LL.M. Program," echoes Berlowe, "because I know I will be meeting some of the brightest international legal stars of the future." Events like this welcome reception, Berlowe goes on to note, "give us a chance to give back to Miami Law, while helping our firm establish long lasting international friendships and business opportunities."
Students also connected with other law firm partners and associates who were in attendance, including Andrea Bos, Carl H. Perdue (Miami Law Maritime LL.M.), and Daniel E. Vielleville , J.D. '03, as well as Miami Law Adjunct Professor John H. Rooney, Jr., who teaches courses on International Commercial Arbitration and International Business. These conversations in smaller breakout rooms gave students the space for robust discussions on career aspirations, goals for the LL.M. year, and provided a way for the law firm attendees to give invaluable career advice and feedback for the students.
One student who was in attendance at the welcome reception was Ali Al Ameen, an Intensive Legal English + International Arbitration LL.M. student from Lebanon who also completed legal training in France and joined the program this Fall 2020 semester. Al Ameen notes that "there is more learning than knowledge in law," and while there is no set road to learning according to Al Ameen, firms such as Assouline & Berlowe, P.A., "can help to build such roads through the combination of multilingual international cases and domestic law." Al Ameen urges other students to seize opportunities such as this while they can during their studies in the program.
Emma Refuveille, a French and English-trained lawyer who also began studying in the International Arbitration LL.M. Program this Fall 2020 semester, attended the welcome reception as well. "In this challenging time of virtual social events," Refuveille says, "it is always nice to be able to meet professionals during zoom receptions." Although Refuveille cannot wait to start attending in person events, she also explains that "zoom meetings are a great way to discuss with professionals with whom we might not have had a chance to talk to during normal times." Refueville concludes by thanking "the Assouline & Berlowe members for their time, their encouraging words, and great advice."
"We are very grateful to Assouline & Berlowe, P.A. for hosting our LL.M. students for a virtual reception," says Sandra Friedrich, Lecturer in Law and Director of Miami Law's International Arbitration Institute and LL.M. Program. "It was a wonderful opportunity for our students to connect with the legal community and receive invaluable career advice from prominent Miami Law alumni and members of the Miami legal community."
This Fall semester, Assouline & Berlowe, P.A. also joined the International Arbitration LL.M. Practicum Program, which provides students with the opportunity to obtain practical experience in the field of international arbitration and dispute resolution more broadly through for-credit placements at law firms and arbitral institutions in Miami and beyond during their LL.M. studies. Sarah El Azouzi, a Moroccan-American International Arbitration J.D./LL.M. Joint Degree student with legal training in Spain, is currently working in the Practicum program at Assouline & Berlowe P.A.
For El Azouzi, this practicum experience "continues to widen my horizons by learning and directly engaging in business litigation cases and international arbitration disputes that involve an array of legal considerations" including intellectual property law, maritime law, real estate law, and labor law. "The privilege of being able to develop legal instincts on such cases," El Azouzi said, "allows me to both cultivate automaticity in legal problem solving and adopt persuasive language and strategies when it comes to crafting legal arguments."
Read more about Miami Law's International Arbitration Program