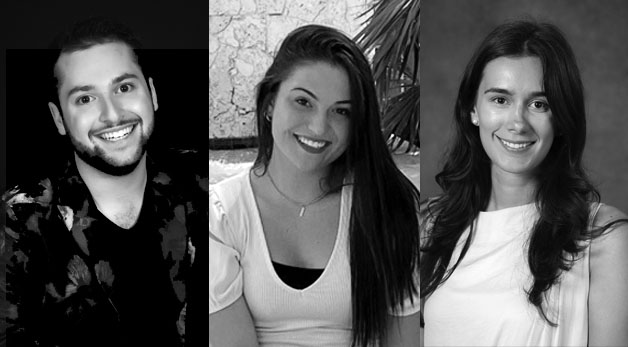 Morgan Anisman, Christin Swanepoel, and Teodora Maftei
In a semester like no other, Miami Law's 379 incoming 2020 students in the J.D. program are proving to be the most efficient, resilient, and digitally driven class in the school's history.
With more than 3,080 applications, this year's class, representing 35 states and 23 countries, report that they were drawn to Miami Law by its more than 300 course offerings, 7:1 student-faculty ratio, 18 areas of study and 17 clinics and practicums. The 1Ls boast average LSAT scores and GPAs that are the highest at Miami Law in at least the last three decades.
The new academic year (2020-21) also welcomed an impressive new class of LLM students, with 127 incoming LL.M. students from over 20 countries.
As a law school located at the crossroads of international trade and industry, Miami Law draws students from a wide range of backgrounds, interests, and life journeys.
A Student with Interest in Health Care and Public Health Law
"South Florida is a hub for health care, and I'm interested in health law," said Teodora Maftei, who has an MHA from Miami Business School and graduated from University of Pennsylvania with a degree in neuroscience and healthcare management, one of 72 majors represented in the 2020-2021 class.
"Given my healthcare focused background, I was drawn to Miami Law since it ranks as a top school for health law," the New York native said. "Miami Law's Health Law program features a range of courses to allow me to explore different areas in the health law field from food Law to health law and policy. Additionally, I wanted a school that could provide me with hands‐on learning opportunities in health law, so I was drawn to Miami Law's Health Rights Clinic. Coming into law school, I also wanted to explore public interest law and Miami Law is highly recognized for its public interest program."
"The COVID‐19 pandemic reinforced the importance of both public health and global health since no country lives in isolation. Since Miami Law is an international hub for law, it is uniquely positioned to guide health law since health law affects all other areas of law from business to labor and employment," Maftei said. "I believe Miami Law's strength as an international hub for law coupled with Miami's increasing importance in the global world will allow me to explore different areas of health law as I embark on my career as a lawyer."
Canadian Student Drawn to Expertise in Entertainment and Maritime Law
Miami Law drew Canadian Morgan Anisman, in part, because of the school's strategic location and expertise in entertainment law and maritime law.
"Having spent my undergraduate career in my hometown of Toronto, I knew I wanted to further my education in a new environment," Anisman said.
"Working in both the entertainment and cruise industries, I was immediately drawn to Miami, home to all three of the world's largest cruise operators, with UM being only a few mere miles from their headquarters. There is no substitute for proximity to top employers when looking to further one's career in an industry that they are passionate about," he said.
Miami Law Expertise in Human Rights, Immigration, and International Law Lures IL
Christin Swanepoel came to Miami Law due to her interest in international law, human rights law, and immigration law.
"My experiences growing up in post-apartheid South Africa inspired me to apply to law school with the intent to practice international law," said Swanepoel. "My hope is to one day become an advocate for social equality and inclusion."
"I found that the Immigration Clinic and Human Rights Clinic at Miami Law complimented my interests well, and would be a phenomenal opportunity to deepen my overall understanding of these fields of law."
Diversity of Student Body Is Another Magnet for First-Year Students
Swanepoel, a criminal justice and pre-law Bowling Green State University graduate, said that she was drawn to Miami Law, in part, because the school's graduates are represented in 92 countries around the world. "I hope to one day use my law school education to combat injustices here and abroad. I felt like such a diverse alumni network would be an extraordinary resource in my success," the Pretoria native said.
Miami Law attracted Anisman, in part, because of the school's diversity and sense of inclusion and community.
"As a Jewish, pro‐Israel millennial, I believe that my views are the opposite of commonplace within a modern North‐American university campus," the University of Toronto graduate said. "Many of today's university campuses are home to anti‐Israel bias, with many Jewish students afraid to voice their opinions on this matter. As a Jewish student, I knew that I wanted to study in a community that would make me feel comfortable. Miami has a diverse student body with a Jewish population that provides groups such as the Cardozo Jewish Legal Society and Chabad at the University of Miami."
Maftei agrees, "As a first‐generation immigrant, I appreciate that Miami Law has a diverse student body. Classroom discussions are strengthened when people from different backgrounds can contribute to the conversation."
"In addition, I am part of the 53% of my class that took time in between undergraduate and law school – I think people's work and/or school experiences during that time help bring new insight to the classroom, extracurricular activities, and student friendships," she said.
Meeting 1Ls' Needs with Adaptive Programming
To meet the needs of the talented class in the light of COVID-19, the law school has propelled the change with adaptive programming to embrace the continuously shifting environment, including Miami Law's UPLIFT Program and diversity training series connecting with upper-level community leaders to provide a rallying point for Miami Law's newest students in a cohesive environment.
Online and in-person classes have proven their worth as professors and students engage in the business of learning.
Faculty who have shifted to online teaching are also seeing benefits. "I have found that my 1L LComm [Legal Communication and Research Skills] classes -- all full section courses -- have in many ways far exceeded my expectations," said Professor Marcia Narine Weldon. "I find the students to be hyper-engaged, and I enjoy seeing them even closer than with past classes, even though we are distanced. I do actually feel closer to them than I have in past years."