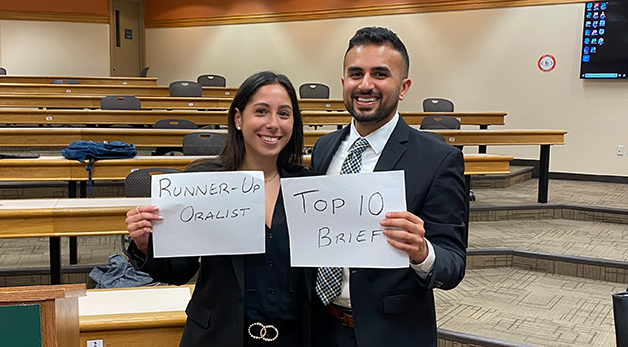 3Ls Kassandra Cabrera and Fahim Gulamali
Trial advocacy skills were in full swing when the Charles C. Papy Jr. Moot Court Board team of Fahim Gulamali and Kassandra Cabrera, both 3Ls, emerged as semi-finalists out of thirty-two teams in the 2020 Emory Civil Rights and Liberties Moot Court Competition. The team also won an award for having one of the competition's top ten briefs, and Cabrera was named runner-up best oralist.
"After a lot of practice and preparation, we were confident that we could make the Moot Court Board and entire Miami Law community proud," said Cabrera. "It was an honor to work alongside Fahim and successfully make it to the semi-finals and bring home two awards. I was also super excited to be announced as the competition's Runner Up Best Oralist! We competed against very well-prepared and well-spoken oralists, so it was an honor to receive that award."
The team was coached by attorneys and Miami Law alumni Lindsey Friedman, J.D. '11; Ian Campa, J.D. '18; and Luis Reyes, J.D. '18. All three coaches are former moot court members, and Campa also served as a member of the moot court's executive board.
"Fahim and Kassandra are absolute superstars," said Friedman. "This last round was perhaps the best moot court presentation I have ever observed. [They were] absolutely phenomenal in responding to opposing counsel, managing, controlling the argument, and charisma. I am so proud of them."
Dedicated to promoting fairness and equality for all, the Emory Civil Rights and Liberties Moot Court Competition attracts participants from law schools nationwide. During the virtual three-day competition, teams argued a hypothetical case based on civil rights and social justice issues before panels of accomplished legal scholars, attorneys, and judges. This year, the case delved into the intricacies of the Americans with Disabilities Act and raised questions as to whether a website is a "public accommodation" under federal law.
"The Emory Civil Rights & Liberties Moot Court Competition pushed Kassandra and me to navigate how to effectively advocate on an exclusively virtual platform," said Gulamali. "With the help of our phenomenal coaches and peers, we successfully crafted our argument to cater to such an environment. We were proud to represent our school as semi-finalists and start off the first of this year's set of competitions on a strong note."
The Honorable Catharina Haynes of the United States Court of Appeals for the 5th Circuit, the Honorable Consuelo Callahan of the United States Court of Appeals for the 9th Circuit, and the Honorable Curtis Lynn Collier of the United States District Court for the Eastern District of Tennessee judged the final round.
"This was one of my favorite experiences during law school and one that I will never forget," said Cabrera. "I hope to continue to make Miami Law proud after graduation and come back to continue to support the Moot Court Board in its future successful endeavors!"
More on the Charles C. Papy, Jr. Moot Court Program
More on Litigation, Arbitration and Dispute Resolution at Miami Law