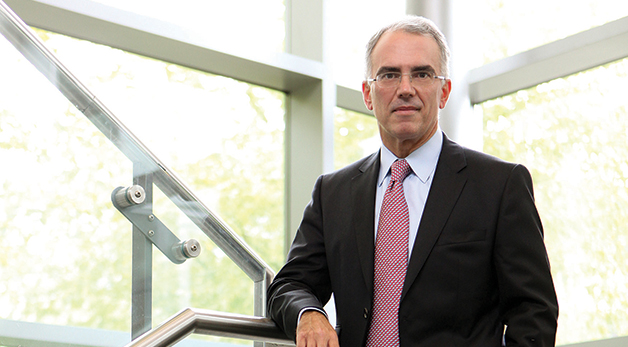 Horacio Gutiérrez
As head of global affairs and chief legal counselor for the music behemoth Spotify, Horacio Gutiérrez is fully engaged in intellectual property law, joining the makers of Fortnite, and others, in the antitrust fight with Apple over the terms and conditions of hosting apps in the Apple Store.
Miami Law – The Ideal Springboard
The 1998 Miami Law alumnus credits his years at Miami Law focusing on international law subjects as providing the keystone to the arch of his career: "My years at Miami Law truly were transformational. While I had graduated from law school in Venezuela in 1986 and obtained an LL.M degree from Harvard Law School in 1991, it wasn't until I obtained my J.D. at Miami Law that my career really took off," the Fulbright Scholar said.
The Gutiérrez star began rising soon after graduation when he was hired by Microsoft, initially as a commercial attorney for the Latin America region, based in Fort Lauderdale, but was later transferred to Microsoft's corporate headquarters in Redmond, Washington, then to Paris as general counsel for Europe Middle East and Africa, and ultimately back to the headquarters, as an executive officer and deputy general counsel.
"There is no question in my mind that my Miami Law degree helped me establish my professional credibility in the United States," Gutiérrez said. "As a result of it, I was no longer just another foreign lawyer working in the U.S. I was a U.S. lawyer who also had valuable experience in the practice of law abroad, particularly after having studied and practiced in a civil law jurisdiction."
Founding the HNBA Microsoft Intellectual Property Institute
During his 17-year tenure at Microsoft, Gutiérrez, founded and developed the Hispanic National Bar Association/Microsoft Intellectual Property Institute, after noticing so few Hispanic law students were pursuing careers in intellectual property law. Miami Law students have historically been singled out to attend since its inception in 2013.
Every summer 25 law students from law schools throughout the country participate in a week-long IP law immersion program in Washington D.C. The IP institute provides substantive instruction, hands-on practical experience, writing workshops, visits to U.S. government institutions related to IP law (the Patent and Trademark Office, Copyright Office, Federal Trade Commission, House and Senate Judiciary Committees, U.S. International Trade Commission, U.S. Court of Appeals for the Federal Circuit), briefings from leading IP practitioners and congressional and executive branch authorities, and networking opportunities, all designed to give participants a broad understanding of IP law practice.
A Trifecta of Expertise in IP Law, Technology Law, and International Law
He has come home to Miami Law to teach short courses, wished graduates a good future in commencement speeches, and given TED Talk-type presentations to the Entertainment, Arts and Sports Program annual industry conference.
Gutiérrez is a regular on Billboard's Power 100 list, which showcases the music industry's most powerful figures. Billboard has also named the Venezuelan native one of the top music lawyers in the industry several years in a row. Miami Law's 2013 Inter-American Law Review named him "Lawyer of the Americas." At the annual law review banquet he spoke to students about the increasing importance of patents in the business world, even to the point of patents becoming a currency of sorts that can be traded. "For the free world trade to exist, you need IP" because it "has become an essential facet of world trade." Gutiérrez has filed 7,000 patent applications around the world every year.
At Spotify, Gutiérrez is responsible for overseeing the music, podcast, and video streaming service's global legal, regulatory and government affairs, and serves as corporate secretary to its board of directors. In addition, he heads Spotify's global licensing function, which is responsible for commercial licensing activities with record labels, music publishers, performance rights organizations and other right holders around the world.
How a Global Background Has Propelled Career
After almost two decades at Microsoft living and working in the United States, Europe, and Latin America, Gutiérrez brought a rich multicultural perspective, as well as extensive international professional experience to Spotify. While at Microsoft, he worked in a variety of international roles, including four years leading the legal and corporate affairs team in Europe. He then spent eight years as the deputy general counsel responsible for innovation, intellectual property and licensing before becoming deputy general counsel for all of Microsoft's products and services, including product research, engineering, strategy, and marketing groups.
Throughout his career, Gutiérrez has been involved in some of the most complex and cutting-edge legal issues in the tech industry and in many high-profile legal and regulatory matters. As head of the intellectual property group, he concluded numerous intellectual property deals, including licensing agreements with companies around the world.
He has played a leading role around the globe on innovation policy issues, including intellectual property, competition policy, and internet regulation issues—all of which he says was "possible only because of the law school's foresight and determination in establishing itself as a hub for the study of international and inter-American law, and as a magnet for students from Latin America.
"While the study of core U.S. law subjects like contracts, torts, civil procedure and constitutional law provided me the building blocks of my U.S. legal career," he says "the focus on international law subjects made my experience at Miami Law feel like a natural progression in a process that had started earlier in a different legal system."
Gutiérrez has trained and practiced law in both civil law and common law jurisdictions. He is licensed to practice in the states of New York, Florida, and Washington, as well as in Venezuela.
Read about Miami Law's Intellectual Property Law Program
Read about Miami Law's Business Law Program