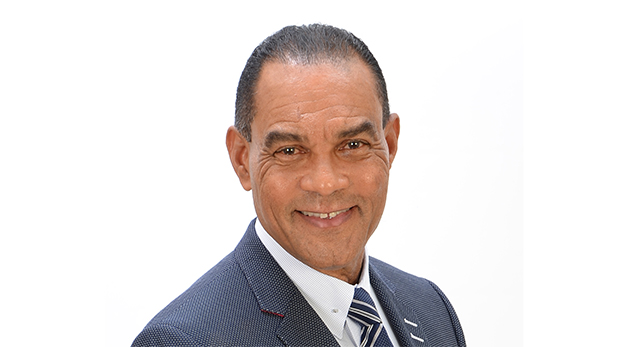 Dr. Rudolph Moise, M.B.A. '94, J.D. '97
Dr. Rudolph Moise, M.B.A. '94, J.D. '97, has been elected president of the Miami-Dade County Medical Association, becoming the first Haitian American to hold the position in the organization's 117-year history. The achievement is one of many for the physician, who has used his law and business and law and health care background to build a successful thirty-year career in both medicine and business, served in the United Sates Air Force Reserve, and become an important voice for the Haitian American community in South Florida.
Moise emigrated from Haiti to Chicago at 17. He remembers the struggle to communicate freely with others as he spoke little English and was often ridiculed for his heavy accent. "People would ask me how I expected to become a doctor when I couldn't even speak English well," he recalls. "But instead of discouraging me, these comments made me work even harder."
After obtaining a medical degree from the Chicago College of Osteopathic Medicine, Moise moved to Miami to work with underserved communities as part of a requirement for the scholarship he had received. "I chose Miami because there were a lot of Haitian and Cuban refugees there, and I knew I could make a difference in their lives," he says.
He completed four years at the Borinquen Medical Center before building a small practice of his own, the Comprehensive Health Center, Inc., focused on family medicine and pain management. The center has since grown to include three clinics serving thousands of patients.
And, because he wanted to give back to the country he says gave him so much, he enlisted in the United Sates Air Force Reserve, serving as a flight surgeon and often flying F-16 fighter jets. He retired in April 2013 as the highest ranking Haitian American officer in the US Air Force Reserve after 21 years of service.
But a successful career in the military and as a physician and businessman wasn't enough for the overachieving Moise. He attended the University of Miami, where he earned both a J.D. and an M.B.A. and later served as president of the Alumni Association and as a member of the Board of Trustees. "The U was instrumental in preparing me for where I am today," he said, "both through my dual degrees and the leadership experience I gained there."
He graduated from Miami Law with the class of '97. And, although he says, "I never actually practiced law," he has found the education he got working toward his J.D. invaluable as a businessman and physician.
"I review my contracts," he says. "I also do a lot of expert witness testimony. When I get deposed, I understand. I don't get upset or confused."
In all aspects of his work, Moise has focused on giving back and making an impact — whether that's as motivational speaker, encouraging others to get an education or lead healthier lifestyles; as a physician, providing medical care to individuals regardless of their abilities to pay; or as a donor, supporting law and medical students.
Moises established a scholarship at Miami Law that supports students who are from traditionally underrepresented communities. The current Moises scholar is Haitian-American Sam Ludington, a 3L Miami Scholar who is passionate about community service.
As a board member with the United Way of Miami-Dade County, and inspired by his early work caring for the elderly as a pre-med student, he helped develop a program granting seniors 65 and older a wish from their bucket list. "My philosophy has always been that success is nothing unless you reach back and help those less fortunate," he said.
His passion and commitment has been recognized. He was awarded the Black Business of the Year Award by the Greater Miami Chamber of Commerce and the Community Leadership Award in 2005. The Business Journal also named Moise one of five finalists for the 2005 Best Physician of the Year Award in South Florida.
In his new role as president of the Miami-Dade County Medical Association, Moise hopes to encourage more physicians from minority groups to become members. He also hopes to provide support for physicians who are facing considerable challenges working in the midst the COVID-19 pandemic, namely by giving them access to Personal Protective Equipment (PPE) and guidance on how to better care for their patients during the crisis.
His advice to recent graduates? "During your career you will have multiple obstacles. In life, nothing comes easy. Keep pushing, seek spiritual guidance and most importantly never give up."
Read about Miami Law's Health Care Law Program