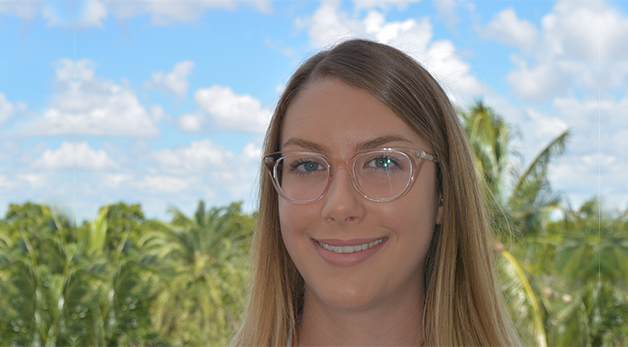 Lindsey Johnson, 3L
Lindsey Johnson entered law school with a long-held passion for criminal justice reform, prisoners' rights advocacy, and death penalty defense. In fact, she has been working with people who are incarcerated since she was just eighteen, including as an intern with a prisoner reentry program and as a volunteer teacher at two Michigan correctional facilities. After graduating from the University of Michigan with a Bachelor of Arts in Psychology and a minor in Social Work, she worked in the corporate world for a couple years before entering law school. It was the HOPE Public Interest Resource Center's impressive offerings that ultimately encouraged Johnson to apply to Miami Law.
Now a 3L and a Miami Public Interest Scholar, Johnson has continued to volunteer within the prison system through the Exchange for Change Program at Dade Correctional Institution, where she has helped teach incarcerated students legal writing and research, allowing them to develop their writing skills and better understand their cases.
"Although the population that I have worked with is not typically seen as vulnerable," Johnson said, "I'm passionate about this work because people fighting for their lives deserve adequate representation and support."
Her commitment to the cause is evident, as she has gained extensive experience in the field during law school. During her 1L summer, she served as an intern with the Federal Public Defender for the Northern District of Florida in the Capital Habeas Unit. She served as a legal extern her 2L year at both the Florida Justice Institute and the Office of Criminal Conflict and Civil Regional Counsel, 3rd Region. More recently, during her 2L summer, she interned at the Regional Public Defender for Capital Cases in Texas as a HOPE Fellow. As a 3L, she is participating in Miami Law's Innocence Clinic.
"I have seen firsthand the tremendous impact that quality of representation has on the outcome of a case. Having a capable and enthusiastic attorney greatly improves the odds of protecting the freedom and the life of a client," Johnson said.
But the work can also be heavy and difficult, especially when dealing directly with capital cases. To cope with the challenges, Johnson emphasized the importance of staying motivated as a law student. "In law in general, it is important to remember why you are doing this work, because it can be demanding. I'd encourage students to take the time out of their schedules to watch an inspiring documentary or gets hands-on with volunteer work - really anything that reminds you of the goal that you are working toward."
Johnson remains motivated and committed to her long-held passions. After graduating from law school, she aspires to combine direct client representation on death row with work on the civil side and policy reform. "My experiences throughout law school have reaffirmed my goals of serving clients in capital cases and furthering criminal justice reform," she said.
Read more about the HOPE Public Interest Resource Center
Read more about the Miami Scholars Public Interest Program
Read more about Miami Law's criminal law program