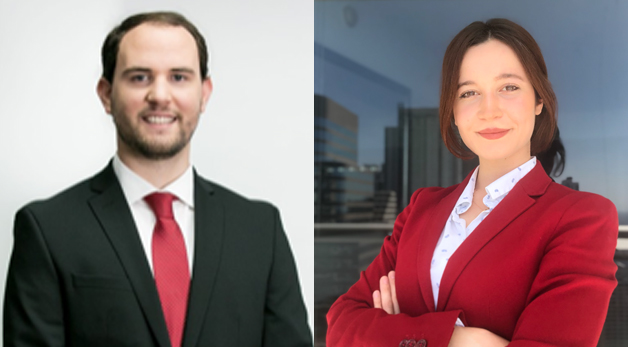 Andres Caldera & Sems Al-Bazz
Miami Law's Academic Achievement Program helps students develop analytical and examination skills for law school success. Part of the program includes those students who are selected to serve as a Dean's Fellow for a particular class based on previously excelling academically in that class.
Miami Law's unique Dean's Fellows Program brings together exemplary upper-level law students to mentor first-year students in their core courses. It allows first-year students to study with high achieving, well-rounded students in a more comfortable and informal setting than the classroom. These additional study sessions provide 1Ls with a relaxed, casual, yet invaluable opportunity to ask questions and delve into the foundational subject matter.
This year, two international students in the J.D./LL.M. in international law were selected to work in the dean's fellow program and assist students in a pair of courses: contracts, a mandatory first-year class, and introduction to U.S. law, a course specifically designed for Miami Law's foreign-trained LL.M. students.
Sems Al-Bazz, a J.D./LL.M. in international law student, is a dean's fellow for contracts.
"The Academic Achievement Program is a successful model of my ideal world where people are collaborating effectively to achieve a common goal," said Al-Bazz, who received her first law degree in Turkey. "I have learned that sharing my knowledge is much more valuable than merely using it. There are limits to the effect that a sole person can make with their knowledge.
"Collaboration is the key to success and innovation. In my career, I will do my best to apply the spirit of this program to my work," Al-Bazz said.
Nicaraguan-raised Andres Caldera, also enrolled in the J.D./LL.M. in international law, is a dean's fellow for the introduction to U.S. law course.
"My position as a dean's fellow for the introduction to U.S. law course is a highlight of my experience at the University of Miami School of Law," said Caldera. "As a dean's fellow, I have the opportunity to engage in discussions of the law with professors and students in exploring the U.S. legal system in depth. Moreover, I keep obtaining personal satisfaction by assisting my peers in acquiring the foundations to excel in the course and the skills needed to succeed in law school. Although preparing each dean's fellow session requires some effort, the sense of fulfillment derived from this experience is priceless. I hope that my time as a dean's fellow allows me to contribute to the formation of future lawyers."
Dean's fellows help facilitate independent learning by focusing on learning strategies, organization skills, time management, and exam preparation. In addition to helping peer students, they build relationships and learn essential skills, such as teaching and communication skills and practical knowledge for real-world trials and negotiations.
Read more about the Dean's Fellows Program
Read more about the Academic Achievement Program