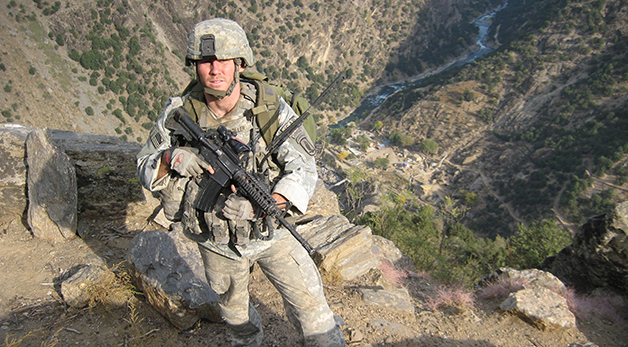 David Roller, J.D. '14
At Miami Law, David Roller was a standout student: executive managing editor of the National Security & Armed Conflict Law Review and he landed two dean's certificates in achievement.
Although the J.D. '14 grew up only a couple miles from the Coral Gables campus, the road to law school ran through many countries. After leaving Coral Gables in 2001 to attend West Point, Roller served as a paratrooper with the 173rd Airborne in Germany and Afghanistan, and with the 82nd Airborne in North Carolina and Iraq.
"As far back as I can remember I wanted to serve in the Army or be a lawyer," Roller says. "Like most lawyers, I have a natural desire for fairness, equality, and justice. Those urges were only emboldened by serving overseas. Ultimately, after fighting in both Afghanistan and Iraq, I thought I could do more for this country with a law degree than with a rifle. I also really wanted to start a family, which isn't easy when you're bouncing all over the world.
"Attending Miami Law was a homecoming. Both my parents are "double 'Canes." My father earned his J.D. in '78 from Miami Law when it had a night school program while teaching full-time at Coral Gables High School, where he taught for 35 years. My mom taught at Ponce De Leon Middle School before raising five children. After being gone from Miami for ten years attending college and serving in the Army during America's longest war, it was time for me to come home to friends and family," he says. "To familiarity. Selfishly, law school also gave me a chance to focus on me. To read and to learn and to flex academic muscles I hadn't fully exercised since college. Honestly, it was refreshing to have only myself about which to worry."
One interesting tidbit: Congresswoman Ileana Ros-Lehtinen nominated Roller to attend West Point, and daughter Katherine Lehtinen and Roller were Miami Law classmates.
Roller reported to the United States Military Academy at West Point just a few weeks before 9/11. By the time he arrived at Miami Law in 2011, Captain Roller had seen intense combat as an infantry officer in Afghanistan and Iraq and had been awarded two Bronze Stars (one with Valor for combat heroism). His unit's time in Afghanistan — where they spent fifteen months at a particularly dangerous and remote firebase named Camp Keating — is chronicled in Jake Tapper's The Outpost: An Untold Story of American Valor, which was released this year as a major motion picture. During law school, Roller served as a battalion assistant operations officer with the Florida Army National Guard.
Roller sees parallels between the Army and the legal profession. Both require extensive training, forge close relationships through "shared misery" and common experiences like 1L and the Bar Exam, and ultimately, both are honorable professions that require you to perform at your best while constantly learning and growing.
Today, Roller is the assistant general counsel at General Dynamics Ordnance and Tactical Systems, where he's responsible for assessing risk, advising the business, and negotiating contracts with the U.S. Government and with General Dynamics' myriad suppliers. Roller employed—in combat—many of the weapons his employer manufactures.
"Miami Law helped me hone my writing, which is vital as an attorney," says Roller. "It also helped me develop and formalize my interest in national security. In addition to serving on the NSAC, during my 3L year, I took Elizabeth Iglesias' Torture & the Law, and Christina Frohock's Legal Issues in Guantanamo. Both classes helped me consider and critique America's national security apparatus from a legal perspective. I'll also never forget Rick Bascuas calling me "Captain Roller" every day in evidence class, and we keep in touch to this day."
During his time at Miami Law, Roller gained valuable legal experience as a judicial intern for U.S. Magistrate Judge John O'Sullivan and U.S. District Judge Patricia A. Seitz at the U.S. District Court for the Southern District of Florida. Roller was a summer associate with McDermott Will & Emery's Miami office, where he worked for four years after graduation before going in-house with General Dynamics.
"Miami is an energetic, world-class city," says Roller, "and Miami Law is specially situated to prepare lawyers to excel in its thriving legal market."