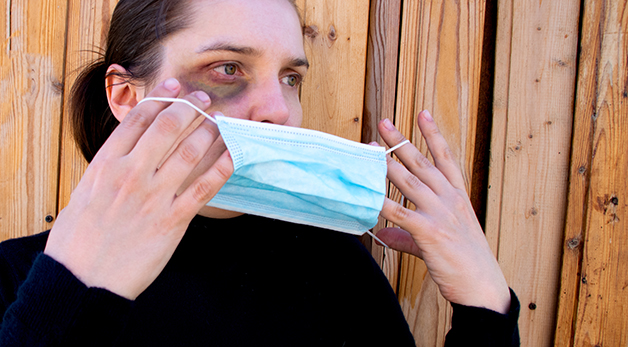 Since March, much of the country has, at the direction of local, state, and federal governments, stayed at home to avoid exposure to COVID-19. Yet for gender-based violence (GBV) survivors, home is often a dangerous place. According to the United Nations Special Rapporteur on Violence Against Women, "domestic violence has already surged in many countries, as measures imposing isolation compel a number of women to be kept at home under the same roof with perpetrators."
To get a fuller picture of the problem in South Florida, Human Rights Clinic (HRC) students, Max Zoberman, Aleeza Shah, and Ryan Tahiri, have been working under the supervision of Professors Denisse Córdova Montes and Caroline Bettinger-Lopez to assess the impact of COVID-19 on GBV service providers' ability to provide critical services to survivors. "The goal is to understand what governments and communities are doing to address the pandemic's impact on survivors in order to reimagine how GBV services ought to be provided," says Zoberman.
In South Florida, COVID-19 is further endangering an already vulnerable population of GBV survivors, composed primarily of Black, Latinx, and immigrant low-wage women workers. For months, these groups have faced disproportionate rates of unemployment, illness, and have been left out of policies meant to respond to COVID-19 like stimulus relief and augmented supplemental nutritional assistance (S.N.A.P).
The study is both qualitative and quantitative, drawing on work completed by past HRC students as well as the expertise of Dr. Ahjané Billingsley, a post-doctoral associate assisting with the experimental design and execution. A series of interviews have been conducted with GBV service providers in South Florida while, simultaneously, an online survey has been distributed by local partners like the Domestic Violence and Sexual Assault Council of Greater Miami, Survivors' Pathway, M.U.J.E.R., The Women's Fund Miami-Dade and others.
"The process of analyzing the data is still ongoing, but preliminary results paint a dire picture" says Tahiri. "The data tells a story of scant reliable information or access to critical technology in communities most at risk" he explains. "The pandemic has essentially laid bare existing but unaddressed gaps when it comes to making sure people have the basics: food, housing security, hygiene products, etc. And while this need increases, 64% of responding service providers report that COVID-19 has negatively impacted their ability to operate." "All told, 48% of service providers say their clients are now less safe than when the pandemic began," adds Shah.
"The impact of COVID-19 on GBV survivors is not just a public health concern, but an affront to many fundamental and internationally recognized human rights" explains Professor Córdova Montes. "Human rights standards and principles also provide a framework for responding to pandemic-related increases in GBV and call for a broad range of interventions to be put in place by states, including economic, housing, and food security."
With this in mind, the HRC looks toward the future. Professors Córdova Montes and Bettinger-Lopez and their students will continue studying the data and streamlining inter-organizational cooperation through an online database they created as a tool for service providers to better keep track of the changes in services during the pandemic.
"The long-term goal" says Zoberman, "is to synthesize the feedback we've been getting from service providers into cognizable reform to help them secure the resources they need by articulating the need in their own words." Ultimately, the clinic team plans to validate the data with study participants before using it to develop policy proposals, demonstrating the gaps in the existing safety-net and helping South Florida to prepare for the next crisis, whatever and whenever it may be.
This work is part of the broader HRC's COURAGE Initiative, which uses a human rights framework to enhance responses to GBV.
More on the Human Rights Clinic
More on Human Rights at Miami Law