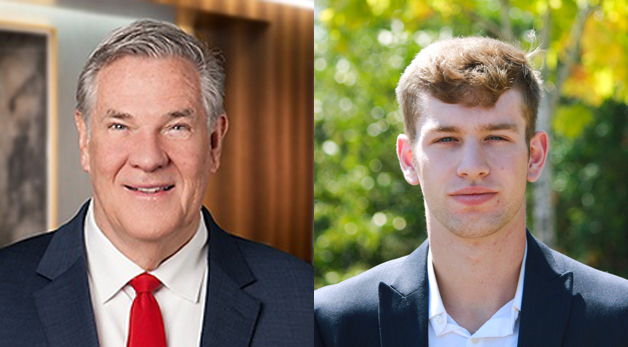 William Lobel, J.D. '69 and 2L Chase Tavernier
Scholarship donors will have the opportunity to meet their student recipients this week at a virtual donor scholarship event hosted by the Office of Development and Alumni Relations.
Donor William N. Lobel, a double 'Cane who received his B.B.A. in 1966 and his J.D. degree in 1969, is one of the nation's leading bankruptcy lawyers, partner and head of the Orange County office of Pachulski Stang Ziehl Jones in Costa Mesa, California.
Lobel generously donated funds to create the William N. Lobel Endowed Scholarship in 2017. The former member of the Society of Bar & Gavel, University of Miami Law Review and Moot Court Board decided to establish a scholarship at his alma mater to help students in need financially.
As both an undergraduate and law student, Lobel received scholarship funds to attend the University of Miami and Miami Law.
"My parents drove me to Miami, gave me $15, and told me 'good luck,'" Lobel said. "My scholarship money got held up for two months, so for two months, I ate cereal with water because I couldn't afford milk. I wouldn't be where I am today if it wasn't for those scholarships."
Second-year law student Chase Tavernier is this year's Lobel Scholar. A graduate of the University of Oregon, Tavernier graduated in three years with a double major in political science and philosophy. He took a year off in order to save money for housing for his first year of law school. He spent five months at a sawmill, working between 50 – 70 hours a week and working an additional job at the mall. The money he saved gave him 13 months of living expenses in Miami.
"I am extremely grateful for the donor scholarship that I was awarded," said Tavernier. "I am a first-generation college and law student, and it means a great deal to have received a generous contribution to my legal education. This year I have struggled and was forced to take out more loans than I previously anticipated. Becoming a lawyer is something I have dreamed about since I was a child, and the appreciation I feel towards Mr. Lobel for having contributed to my education is one I cannot put into words."
Like Lobel, Tavernier is a member of the Society of Bar & Gavel where he serves as treasurer. He is also an intern for the Investor Rights Clinic and was a research assistant to Professor Andres Sawicki this past summer.
"I have not decided what I plan to do after graduation or what field of law I hope to specialize in," said Tavernier. "I have developed a serious interest in corporate law as well as securities and am hoping to pursue summer employment in those areas to discern whether they would be the right fit for me. What I do know – and have known since the minute I arrived in Miami – is that Miami is my home now and I plan to remain here and continue to help those in the community for which I am now a part."