Professor Sergio Campos
The University of Miami School of Law is known for its commitment to international law and international students, colleagues, and alumni. As part of this focus, law professor Sergio J. Campos recently delivered the seminar, "The 2020 U.S. Presidential Election: A Comparative Perspective" on October 23 for Miami Law students and alumni, and on October 29 for students and faculty at the National Autonomous University of Mexico (UNAM).
Professor Campos' interests include civil procedure, federal courts, and remedies, and he focused the talk on introducing features of the American Presidential political system and used comparative and political science scholarship to show difficulties with the system, and how politically the U.S. has adapted.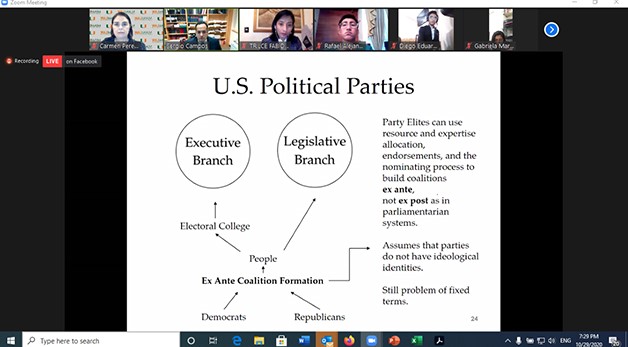 Building on a strong collaboration with Latin America, more than 100 students and faculty participated in the talk with UNAM, Mexico's largest public university. The lecture was also broadcast live through UNAM's Facebook channel.
"Both the UNAM and the University of Miami have in common academic excellence," said Trilce Ovilla, Coordinator of International Affairs at UNAM. "Taking this into consideration it is only normal that we start to generate common strategies to help diffuse legal culture. Professor Campos conference about the 2020 U.S. Presidential election really helped us to understand the U.S. electoral system."
Carmen Perez-Llorca, Miami Law's Assistant Dean for International and Graduate Programs added, "We hope this is the first step in our academic collaboration with UNAM School of Law, which will contribute to expand the reach of Miami Law's important scholarship in international and comparative law. Professor Campos' comparative approach to the study of presidential and parliamentary systems across the Americas is a clear example of Miami Law's leadership in global critical issues of law and policy."
The talk naturally also discussed the then upcoming U.S. Presidential Election for those unfamiliar with the American electoral system and it briefly compared these features with presidential and parliamentary systems in other countries. After the presentation, there followed questions and answers from participants.
One such UNAM participant, Maryjose Lopez Dominguez, was most appreciative. "I wish to express my gratitude towards UNAM and to the University of Miami for organizing this conference which not only allows us to study but also to comprehend an entire electoral system; one that is so different from ours. Thank you, Dr. Campos, I enjoyed much your conference."