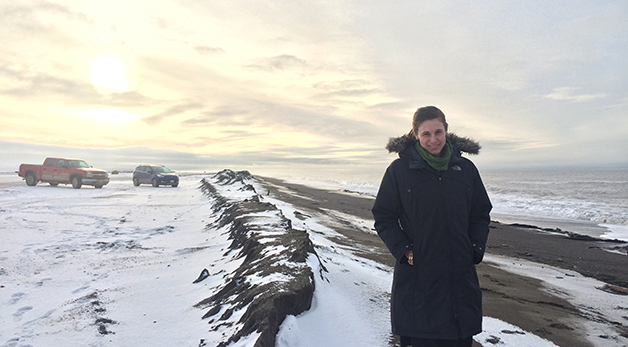 Megyn Greider Weigand, J.D. '08
When Florida native and former HOPE Fellow Megyn Greider Weigand, J.D. '08, graduated from Miami Law, the economy plummeted into the Great Recession. Moving to New York, she took her first plunge into cold weather. There she worked as a contract legal writer and editor and continued looking for her entrance into the world of public interest law.
In addition to being a HOPE Fellow at Miami Law, she was also a member of the Public Interest Leadership Board, a Dean's Fellow, and a member of the Society of Bar and Gavel. She believes that "having the support of the HOPE Public Interest Resource Center greatly improved my sense of purpose and ability when discouraged by some of the day-to-day grind of law school."
While at Miami Law, Weigand also had the opportunity to attend the Equal Justice Works Conference and Career Fair in Washington, DC, where she met an attorney with the Alaska Public Defender's Office. She remembers "[i]n the moment [providing my resume] was an act of courtesy because I was sure my prospects wouldn't take me above the 43rd parallel, certainly nowhere near the 57th." Fast forward to 2009, and that courtesy contact became her door into public service, through a position as an Assistant Attorney General in Bethel, Alaska. Weigand said yes to a job in a city "off the road system," which she later learned was literal. The only way to get to her new home was by plane or boat, depending on if the river was frozen. She jokingly reminisces: "I had survived a year in New York City, so the tundra was definitely leveling up."
Weigand strongly believes the experience she gained in Miami Law's Children and Youth Law Clinic is the reason she was offered the position with the Alaska Attorney General's Child Protection Section. During her six years in Bethel, Weigand litigated children's cases and adult mental health commitment cases in Alaska state court. She has since moved to the more accessible city of Anchorage, and started a new position in the Commercial Section, where her day job includes pursuing discipline of licensed professions, advising state boards and commissions in their roles as market regulators, and handling legislation and emergency regulations. However, Weigand is grateful for the "all hands on deck" attitude of this office, which has led her to work on a variety of cases including asbestos litigation for Occupational Safety and Health, federal prisoner litigation for the Department of Corrections, and antitrust investigations for the state.
As an Assistant Attorney General, Weigand litigates many cases, but she did not always plan to follow that path. Her participation in Miami Law's Litigation Skills Program "changed the trajectory of my career, and my life."
She advises law students that she's "reflected on this a lot (often in the company of other litigators) and my working theory is that you either are, or you are not, a litigator; but every lawyer owes it to herself or himself to find out, and you find out quickly." She recommends all students participate in the Litigation Skills Program because "understanding trial techniques is critical to developing as a counselor and advocate. The tools taught in Litigation Skills are accessible to all, yet when placed in the hands of those with a certain, perhaps latent, drive and acuity, it becomes immediately obvious who should pursue a career that includes litigation."
Participation in the Children and Youth Law Clinic and her internships provided Weigand with the practical experience of representing clients in court (the highlight of her internships), watching and participating in attorney-client relationships, how law offices are run, and time management of busy caseloads. She believes the perspectives gained through her involvements with HOPE, the Clinic, and her public interest internships impact the choices she makes as a government attorney. She advises all incoming and current law students to "use your time in law school to develop your legal judgment and advocacy skills so you become the candidate who can walk in and take on a caseload."
Weigand provides the following advice to graduating students looking for careers in public interest: "First, congratulations! Second, public interest work is everywhere and it's a big world outside Miami, outside Florida, outside the continental U.S., so look into horizons you hadn't previously considered. Finally, chance and forces beyond your control will affect your career trajectory, and it's less of a shock if you are prepared to shift your expectations, stay flexible, and focus on doing good work at every step along the way."
Read more about the HOPE Public Interest Resource Center
Read more about the Children & Youth Law Clinic