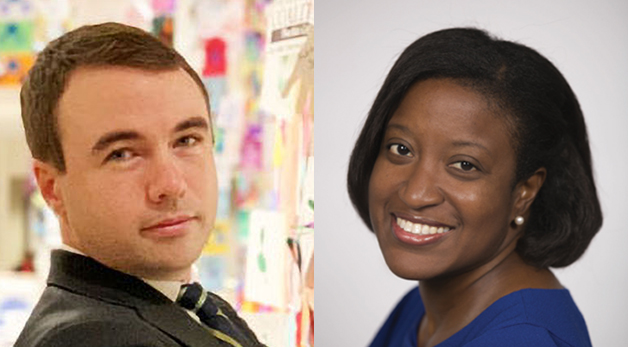 Robert Latham and Kele Stewart
Miami Law's Children and Youth Law Clinic is tackling the herculean task of trying to reform Miami's child welfare system. The problems within the web of troubled agencies are enormous in scope, and the clinic's latest advocacy project is aimed at leveling the field for Black and historically underserved minority children.
The system's failings include a disproportionate number of Black children in the system compared to the county population and a slew of inequities ranging from a missing culture of respect and dignity afforded to Black families to outright racism exhibited by some in the welfare system.
"Starting over this summer in the wake of George Floyd's death and the protests that followed it," said Kele Stewart, co-director of the clinic. "and as with many organizations and systems across the country, people within the child welfare system started focusing more attention on the fact that there is significant racial disproportionality and disparity in the child welfare system, and that is happening nationally, as well as locally."
Stewart and Associate Director Robert Latham started brainstorming actions that could address disproportionality and disparity in Miami. Adding to a host of other projects – including an accepted paper by Stewart on the overlap among the child welfare, education and juvenile justice systems in producing inequitable outcomes for Black children to be published as part of the Columbia Journal of Race and Law's Spring 2021 symposium titled "Strengthened Bonds: Abolishing The Child Welfare System and Re-Envisioning Child Well-Being" – they built a local working group of child welfare stakeholders.
Loosely named, "Towards Racial Equity in Miami's Child Welfare System," the group became part of the Miami-Dade Community Base Care Alliance through which Miami Law partners with other child welfare stakeholders including the Florida Department of Children and Families Southeast Region, the Citrus Family Care Network, the Guardian ad Litem program , Florida Foster Care Review, Inc., and other organizations that make up the local child welfare system.
Data-based, Scalable
Latham has been compiling tracking data dashboards for years plotting aspect of the child welfare system and will be the lead to providing and building relevant data strings. The current project is already collaborating with their counterparts in Hillsborough County, Florida, and will be scalable for other counties and states.
"As well as Robert's expertise in data," said Stewart, "the other piece that we are developing is guidance and a framework for organizations that work within the child welfare system to take a closer look at their own policies, practices, and culture."
"We want to examine the ways in which they contribute to disproportionality and disparity, and make changes," Stewart said. "The last piece is working with other systems: the education system, the juvenile justice system, housing providers and community organizations etc. to figure out whether we can help to address some of the root causes that contribute to large and disproportionate numbers of primarily poor Black families being brought into the system."
Some of the project goals are to draw in people impacted by the system to lead, participate, and be empowered throughout the change process. Also, organizations within child welfare should collaborate to avoid duplication, row in the same direction, and create momentum and reach for transformative change.
Latham says their goal is to have a benchmark report ready by spring that can be shared and implemented in other jurisdictions. "After a baseline is established, we can build on that; it's a multi-year initiative, but really," said Latham, "the work is never done.
Latham's initial work involved simplifying the complex data already available in Florida. "One of the things I've heard from people nationally is that in other states this type of information about disparity in local child welfare systems either isn't available at all, or the agencies or the state hold it very tightly," said Latham. "Florida has very strong public records laws, but it is sometimes difficult to make sense of the data that's available. People have told me that making the disparity information accessible and laying out clearly what each state agency is doing has completely changed the conversation because there is nowhere to hide.
"At that point, with problems identified, we can move on to actually addressing them, mostly bypassing a debate about whether we have a problem at all," said Latham.
Hands-on Student Learning Experience
The clinic is an in-house, live-client representation of children in foster care and former foster youth in dependency, health care, mental health, disability, independent living, education, immigration and other general civil legal matters, ensuring that they have a voice in court proceedings. Under the supervision of three Florida-licensed attorneys, more than two dozen second- and third-year law students are involved in every level of engagement.
One of the unique features of the clinic is that students handle cases on behalf of individual clients, while also getting the opportunity to work on ambitious systems reform projects like this one.
"The CYLC has provided me with a space where I can gain experience while also being able to help an overlooked population that is often left powerless," said law student Conor Arevalo, who has worked with Latham on the project. "This experience has not only given me the necessary skills to practice law, but has also given me a sense of direction within my legal career."