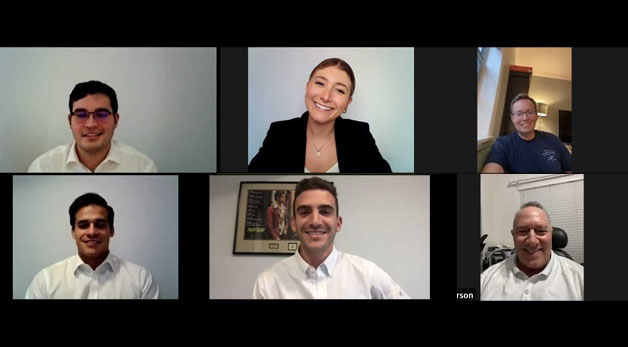 Miami Law Trial Team 
Miami Law's trial team of third-year law students Christopher Penelas, Christian Maroni, Annie Rosenthal, and Adam Peters came in first place at the All Star National Challenge hosted by St. Mary's University School of Law. The team beat out 97 other law schools and won the final round against UCLA School of Law. Penelas, Maroni, and Rosenthal were also named as best advocates during the competition.
"Competing in the 2020 All-Star National Trial Team Competition was such a rewarding experience," said Rosenthal, who is also a member of the Charles C. Papy, Jr. Moot Court Board and the articles and comments editor for the Inter-American Law Review. "I had the pleasure of being coached by Bill Pearson and Jeff Pierce, two incredibly talented and knowledgeable attorneys. Bill, in particular, spent countless hours preparing us for the competition, and it definitely paid off. The competition was extremely challenging — we faced different law schools from across the country, many of which had established and well-known trial teams."
Miami Law was the decided underdog in this competition, as the mock trial team only began last year. They are currently coached by William Pearson, a criminal and civil litigator who also serves as an adjunct professor in the Litigation Skills Program.
"While the process was sometimes tiring, many times practicing late into the night, it was worth every second," said Peters, the senior articles editor of the Business Law Review. "The bond I formed with my teammates is something I really value and will never forget. It is hard to express how I felt when we found out that we won. My initial reaction was a mixture of excitement and relief as my co-counsel, Christian, and I were the team to argue the final round of the competition. However, once I was able to digest it, I just felt happy and proud to have been able to represent the University of Miami School of Law."
The competition this year was virtual, and all trials were conducted via Zoom. In every trial, two team members served as attorneys, and two other team members served as witnesses. In each trial, each attorney had to perform one direct examination, one cross-examination, and one speech, whether opening or closing.
"My teammates and coaches worked so hard to prepare for this competition, and it felt incredible to come out on top," said Maroni. "With so many law schools and talented competitors in the field, it was truly an honor, and a moment I will never forget."
"UM's victory at the All Star National Challenge competition is worth shouting from the treetops," said Professor Tamara Lave, faculty director of the Litigation Skills Program. "Annie, Chris, Christian, and Adam showed what happens when you combine raw talent with excellent training and lots of hard work. Look out world! The UM trial team is here to stay!"
Read more about Miami Law's Trial Team