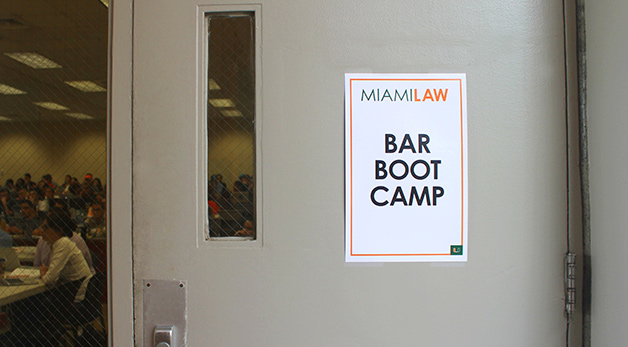 Miami Law's Bar Boot Camp, in its sixth-year, begins on Monday, May 11, though this year's prep will be conducted virtually. Alex Schimel and Rodney Rawls of the Academic Achievement Program, run the "camp," as well as other elements focused on preparation to sit for July's exam. Schimel answers questions about this year's gathering.
What is the Boot Camp?
Bar Boot Camp is a free supplemental bar preparation program, for University of Miami School of Law graduates. We offer the program each summer and winter, in the months leading up to the bar exam. Sessions include intensive review of the most frequently tested bar subjects, with opportunities for practice, feedback, and one-on-one advising.
How is this year's different?
Typically, the Boot Camp program consists of in-person lectures and proctored exam simulations. In prior years, we would assemble the entire graduating class in our largest classroom each week (often squeezing in extra tables and chairs so that everyone can fit). This year, we needed to adapt to the circumstances. We moved the program online, with a mixture of live-streamed and asynchronous sessions. But the content will be the same! We're still going to guide our students through the process of bar preparation, and make sure they are ready to succeed.
What other offerings does Miami Law offer to prepare law students for the exam?
We offer a terrific bar coaching program, to help each student create their individual plan for success. Every single Miami Law graduate gets to have a bar coach. Coaches are available by phone, text, and email throughout the study period. They answer tough questions, and help students strategize. They also provide much-needed moral support and encouragement. The bar exam is really challenging, and it is helpful when students have an expert to turn to for advice. We have seen great results from this program over the years.
We also offer credit-bearing bar preparation courses as part of our curriculum, during the final semester of law school. This allows students to begin the bar study process early—rather than waiting until after graduation (as was the practice many years ago).
Is it only the Florida Bar or is the information relevant to all state bar exams?
We help students prepare for every bar exam in the country! Our programs include components that are particular to Florida bar takers, as well as students who are testing in other jurisdictions.
For students who are incoming or rising 2Ls and 3Ls, what are other programs you offer to help achieve success and get the most out of the Miami Law experience?
Our Academic Achievement Program helps students acclimate to law school and achieve their full potential; from the first day of classes until they earn their bar license. We offer numerous programs and workshops throughout the year, and we run a fantastic peer-mentoring program for 1L students (the famous "Dean's Fellows"). But our favorite thing is getting to know students individually. We spend much of our time meeting with students one-on-one, to help them strategize for success in classes and on exams. We want our students to succeed, in law school and beyond. That is built into our culture at Miami Law.