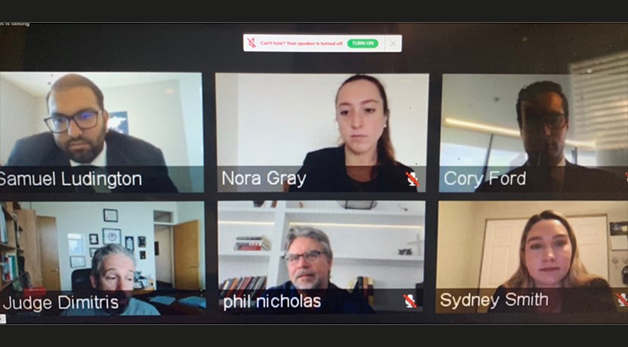 Virtual Litigation Skills Final Trials 
Right on schedule, the Litigation Skills Program held its final trials for the Lit Skills I class on April 18, 2020. Instead of taking place at the Gerstein Courthouse in Miami, they were spread all over the state and country at the Gerstein Virtual Courthouse.
Twenty-seven simultaneous jury trials began at 8:30 a.m. The trials involved: 108 second- and third-year University of Miami School of Law students as counsel; 54 judges and lawyers from the Lit Skills adjunct faculty serving as presiding judges and critics, and almost 150 jurors.
Jurors were composed of students from local colleges taking law-related courses. They heard the case presented, deliberated openly (allowing the law students to watch their discussions), rendered verdicts and commented on the law students' presentations.
"It was just like a regular final trial day," said Professor Laurence Rose, director of the Litigation Skills Program. "The students prepared their cases over the last six weeks, working with their partner, dealing with opposing counsel and witnesses, and ending with a formal pretrial conference, all in advance of trial.
"The only real unique difference was that the witnesses were portrayed either by co-counsel or by people at their shelter-in-place location or those who appeared by video."
Although the trials were managed through the law school's use of BlueJeans platform, Rose said, "the students rose to the task of presenting trials in the COVID-19 era, which also might be the trend for modern trials in the justice system, both civil and criminal."
The massive planning and execution of these trials in one day, all at the same time, and with a great number of judges, lawyers and jurors is "just normal for our excellent staff at the Litigation Skills Program," said Rose.
Led by Program Manager Lydia Sanchez, the staff began the process almost a month ago, training the adjunct faculty in the use of the technology and the revised procedure, organizing jurors who also had access to the technology, and coordinating the process with Miami Law's excellent AV department.
"I am so proud of our people, the students, faculty and staff, in this final trial process. I look forward to our final class when we can collectively congratulate them on a job well done and present our awards to the students," said Rose.